What is Maverick Protocol?
Maverick is a DeFi Infrastructure Protocol that provides the Maverick AMM DEX trading platform with a unique design - Dynamic Distribution AMM. Maverick AMM helps its users maximize capital efficiency for users, liquidity providers (LPs), DAOs, treasury, and developers.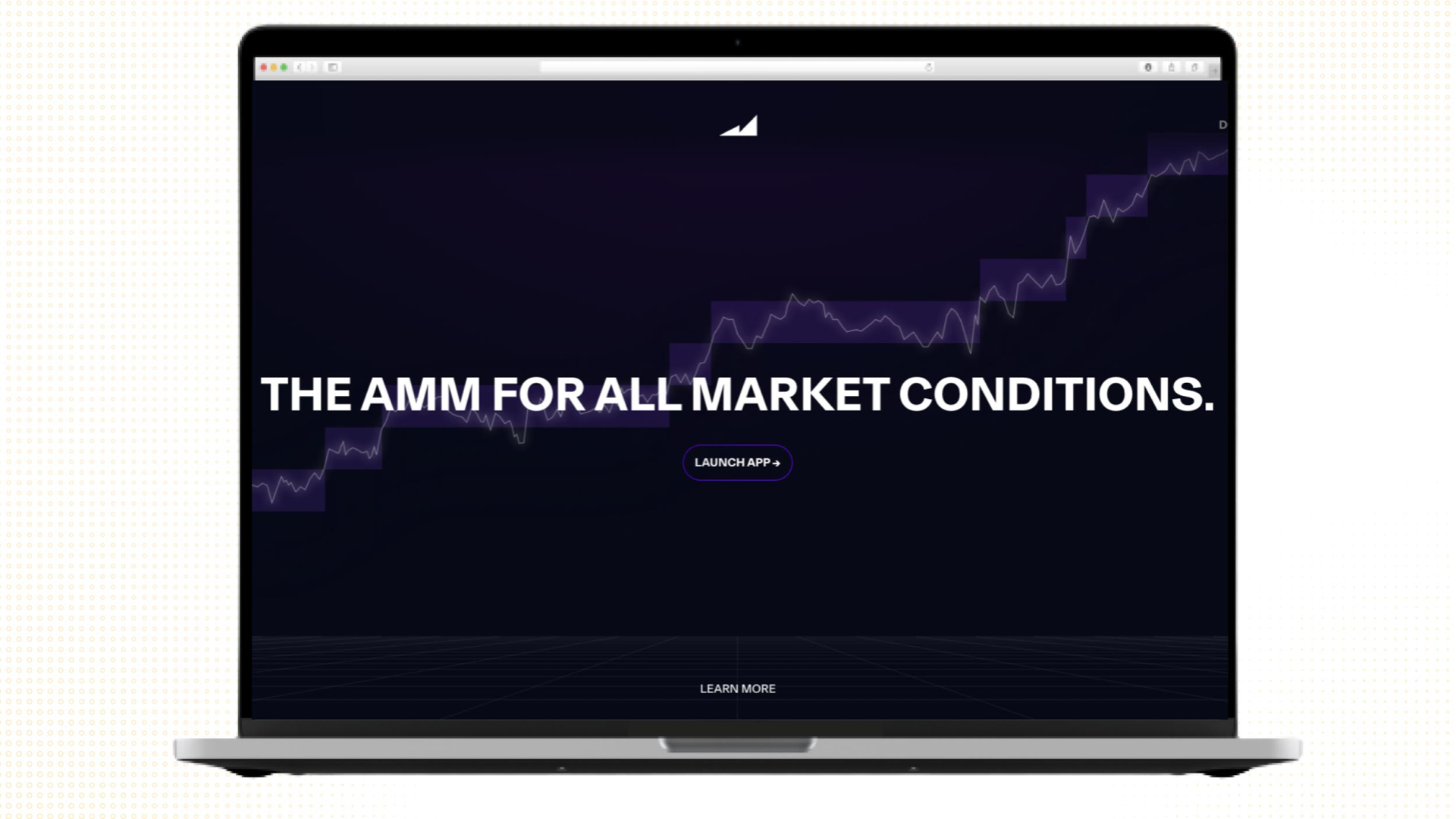 Maverick AMM is the main product of the Maverick Protocol, which acts as an AMM DEX on the zkSync and Ethereum networks.
The ecosystem of Maverick Protocol
Maverick Protocol wants to incentivize the liquidity in AMMs and build an ecosystem of interconnected application layers.
The ecosystem includes 5 main components below:
Blockchain platform: Ethereum, zkSync
Tokens: stablecoins, LST…
Trading aggregators: 1inch, Paraswap…
Liquidity aggregators: Tokemak, Chicken Bonds
Data and other dApps: DeBank, The Graph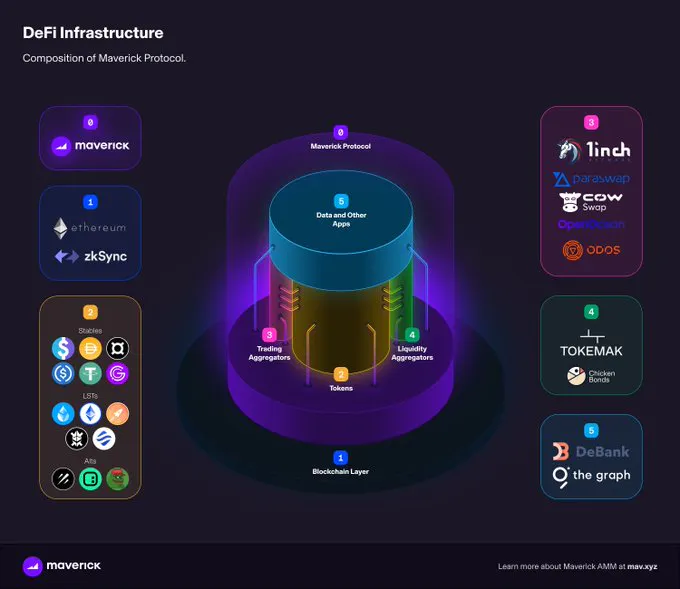 Limitations of some AMM models
Maverick believes that the current AMM in the market has a common problem, which is controlling the liquidity of LPs.
For the conventional AMM model, LP makes an implicit bet that the price of the pair of assets in their pool will go sideways, enabling them to collect trading fees and the token (possibly) rising in price/go sideways.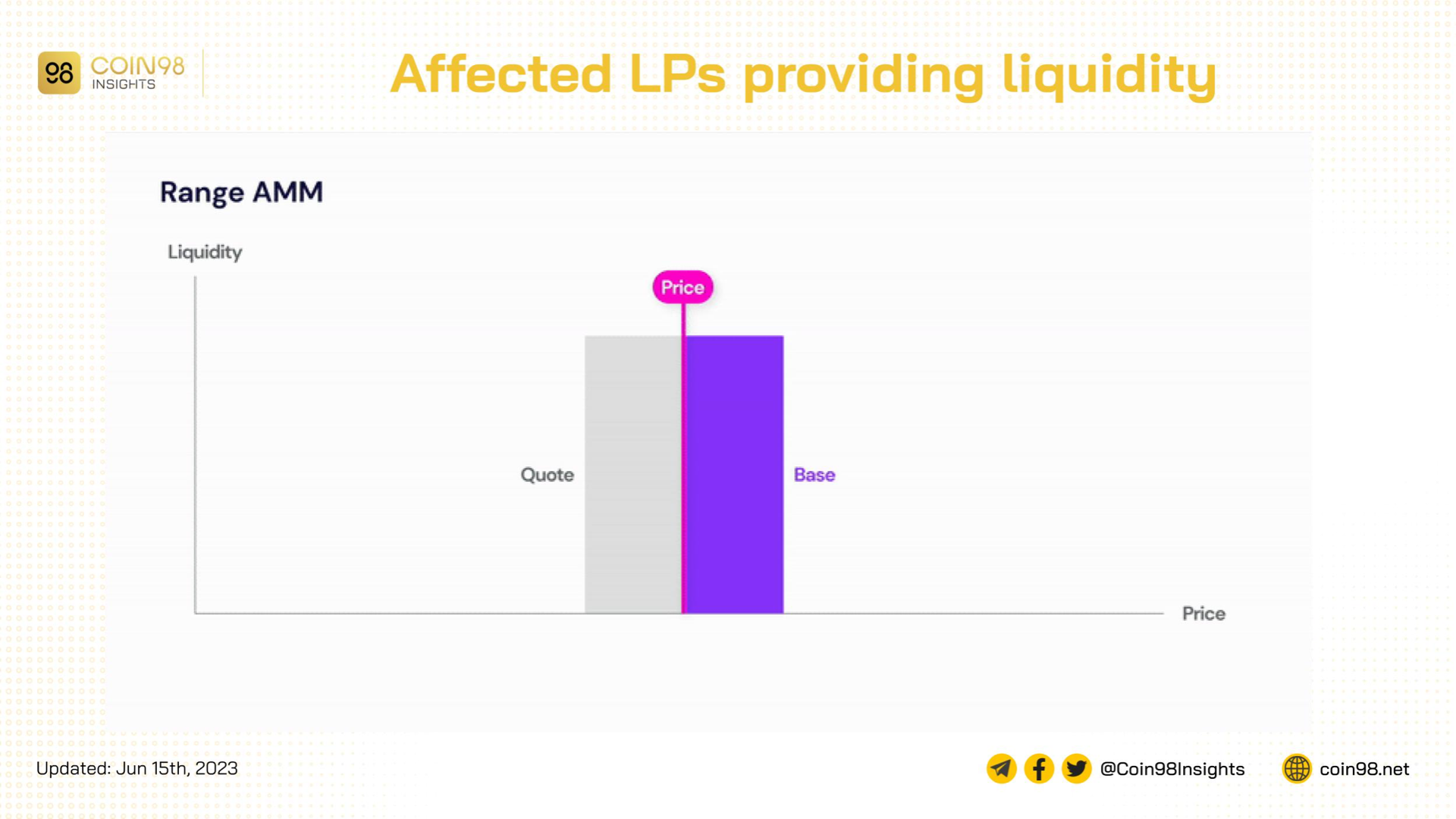 Moreover, innovative AMM model such as concentrated liquidity AMMs (Example: Uniswap V3), allow LPs to concentrate their liquidity within a defined price range to meet the increasing demand of users.
However, the limitation of this model is also in the "defined range", if the token price is not in the range of the LP providing liquidity, LP will not benefit.
In short, Maverick AMM wants to solve these problems through the Dynamic Distribution AMM mechanism.
The mechanism of Maverick AMM
Maverick AMM has 3 main features:
Swap
Boosted Position
Pools
Swaps
Users can trade tokens on the Ethereum and zkSync networks.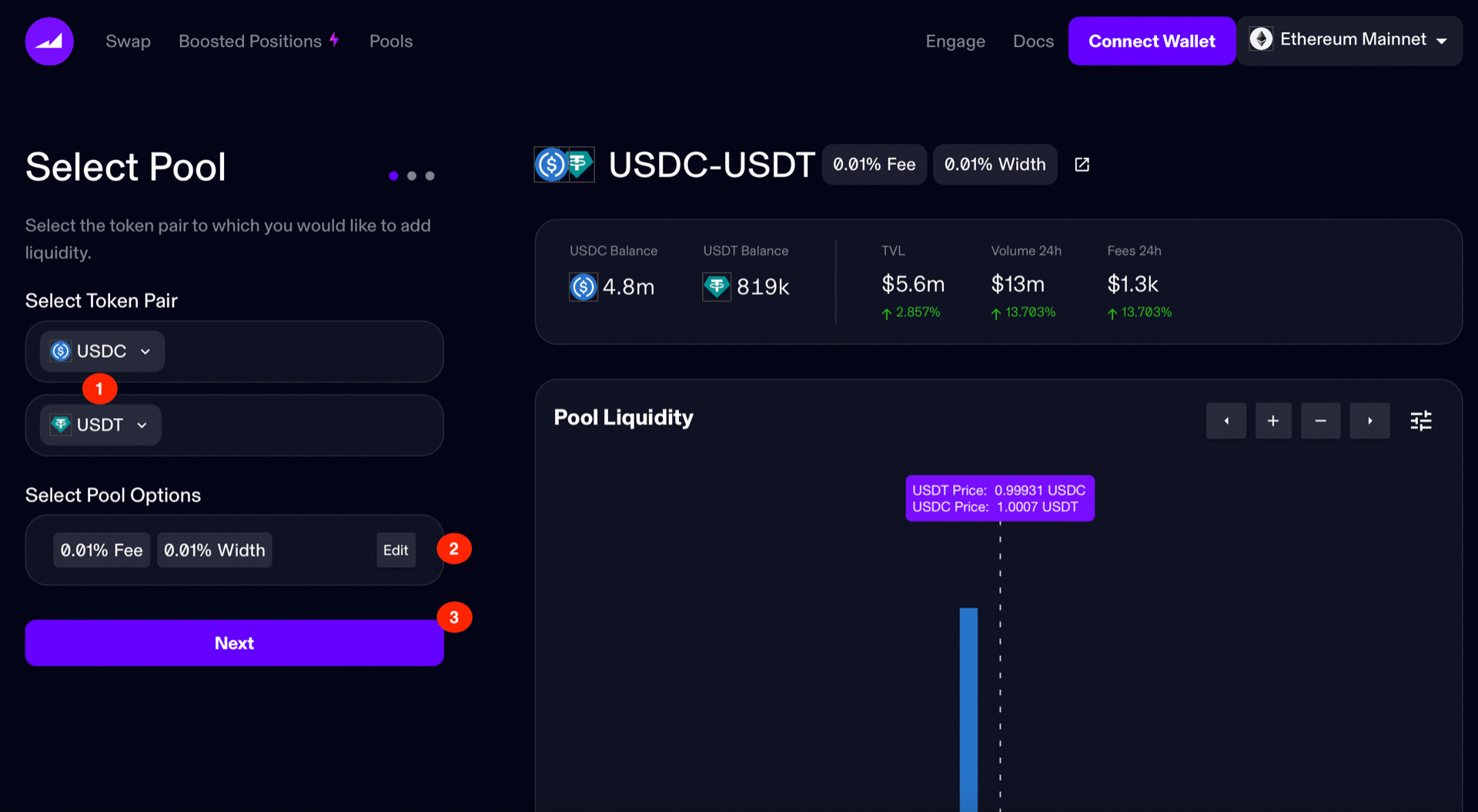 Pools
To increase the efficiency of the concentrated liquidity AMM model, the Maverick AMM allows LPs to stake assets within a defined price range while specifying pool price moves. LPs will receive a transaction fee when the price is within their liquidity supply range.
Each pool in Maverick will be selected with the following information:
(1) Token Pair
(2) Bin width: determines which range will be activated if the price moves.
In a pool with a bin width of 2%, if the token price change to fluctuate by 2%, a new bin width is automatically activated.
(2) Fee rate
Highly volatile assets: bin width suggested is 2%.
Stable assets: bin width suggested is between 0.02% and 0.05%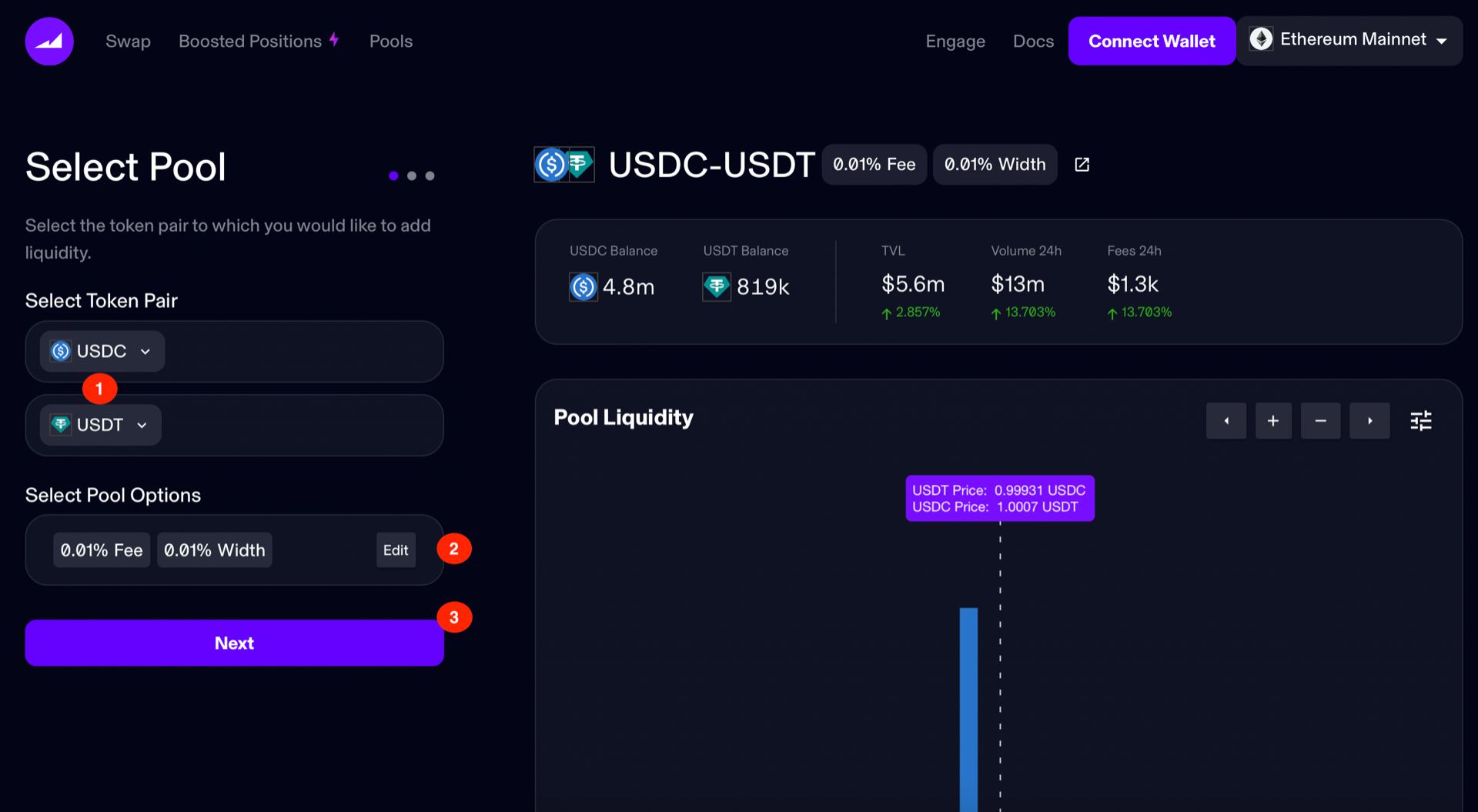 Maverick AMM provides 4 modes for LP:
Mode Right: Users would choose Mode Right if there was an increased demand for that asset. Liquidity will not move if the price falls.
Mode Left: Users would choose Mode Left if there was an decreased demand for that asset. Liquidity will not move if the price increases.
Mode Both: Users would choose Mode Both so that a liquid position follows the price of an asset in both directions.
Mode Static: Users would choose Mode Static for custom liquidity distributions. Liquidity will not move liquidity to follow price.
Each of these modes is designed to facilitate a particular kind of liquidity strategy, with the first three all relying on Maverick AMM's intelligent liquidity-shifting technology to keep your liquidity active according to certain parameters.
Watch the below video to understand more:
Boosted Positions
Boosted Position Feature helps LPs earn more profit. Similar to other LP positions, however, Boosted Position has two differences:
LP others can add liquidity to a Boosted Position, effectively buying a share in that position
A Boosted Position can be incentivized with additional token rewards
With each Boosted Position, users can use the rewards to attract more liquidity to the project.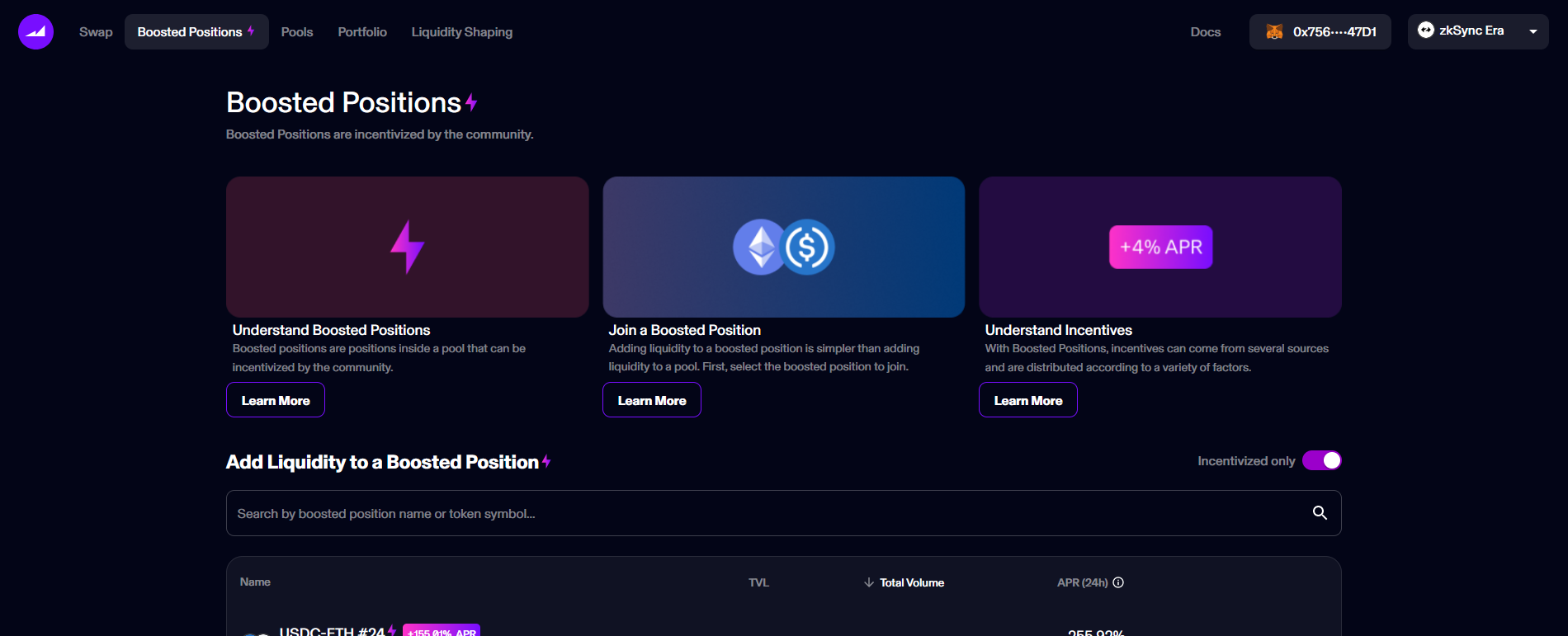 The rewards which LPs add liquidity to the Boosted Position pool receive:
Transaction fee
Incentive rewards
Example:
Token of AAA project want to encourage new LPs and attraction of users:
This project creates a Boosted Position that includes only ETH (which can be traded with token A) in the ETH/A pool.
LPs that provide liquidity of ETH can be rewarded with A token.
From there, project A gets more liquidity and LPs also benefit from this pool.
What is Token Maverick Protocol?
Token Key Metrics
Token Name: Maverick Protocol
Ticker: MAV
Blockchain: Ethereum
Token Standard: ERC-20
Contract: 0x7448c7456a97769F6cD04F1E83A4a23cCdC46aBD
Token type: Utility
Total Supply: 2,000,000,000 MAV
Circulating Supply: 250,000,000 MAV
Maverick also launched veMAV as the project's governance token. Users can stake MAV to receive veMAV.
Token Allocation
Maverick Protocol announced the MAV Token Allocation below:
Liquidity Mining & Airdrops: 30.85%
Team: 19%
Investors: 18%
Public Goods Fund: 16.5%
Foundation/Treasury: 10%
Advisors: 4.15%
Binance Launchpool: 1.5%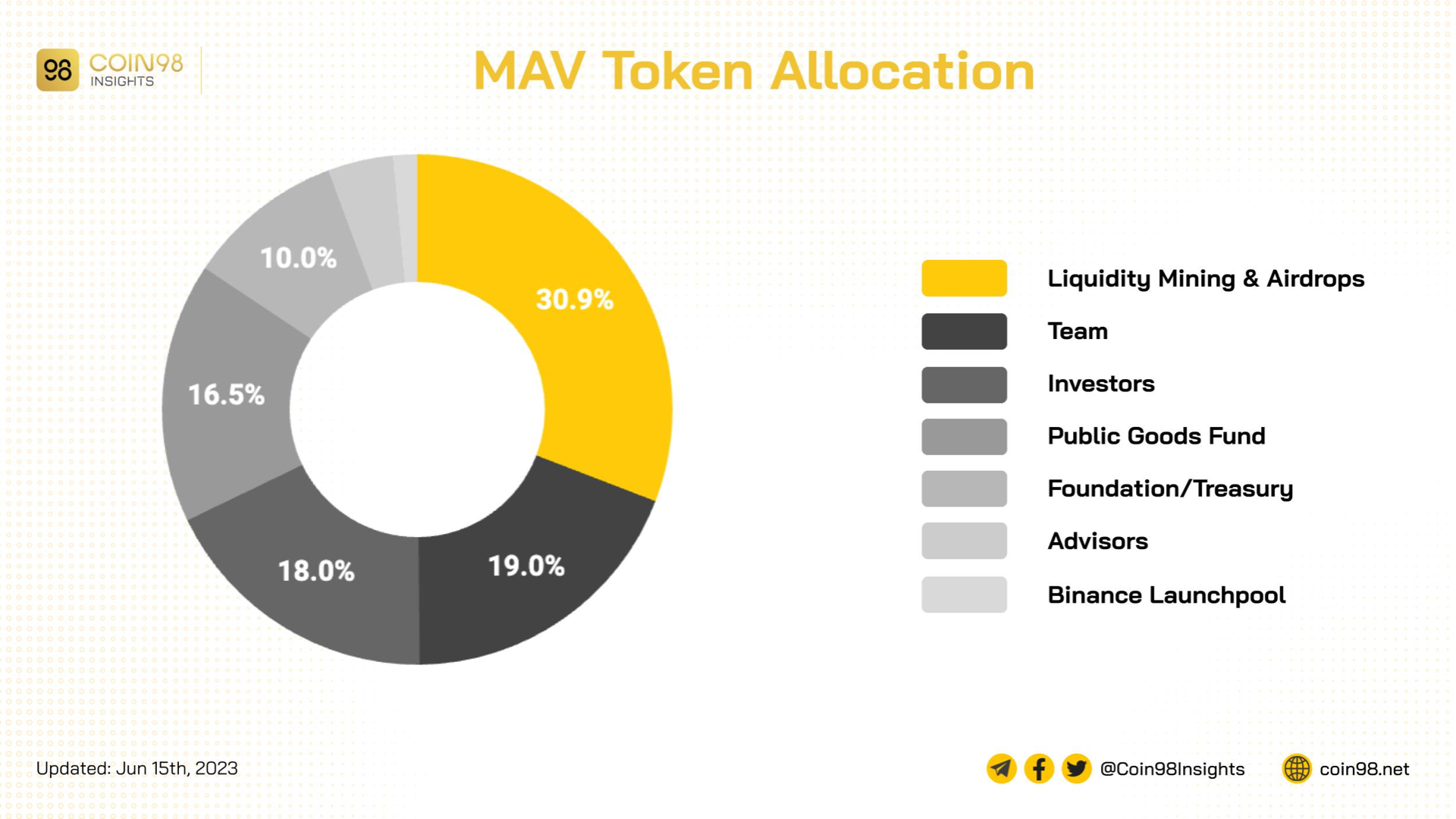 Token Sale
Maverick is the 34th Launchpool project on Binance. Users can participate by staking BNB (reward 24,000,000 MAV) and TUSD (reward 6,000,000 MAV).
Time: 7:00 AM June 14, 2023 - 6:59 AM July 9, 2023 (UTC)
Trading Pairs: MAV/BTC, MAV/USDT, MAV/TUSD
Token Release Schedule
Maverick announced that MAV Token Release Schedule below: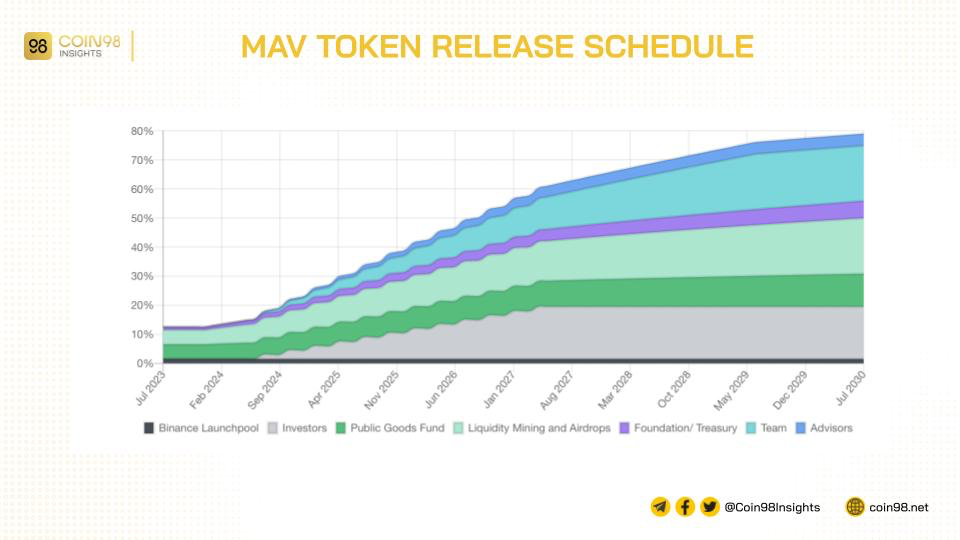 Token Use Case
MAV Token can be used for the following functions:
Governance: MAV Token Holders can stake to receive veMAV, which will be used as governance decisions.
Voting: veMAV tokens are used to vote on project proposals on DAO.
Where to buy MAV tokens?
Users can join Maverick's Launchpool on Binance between 2023-06-14 00:00 (UTC) to 2023-07-08 23:59 (UTC).
Roadmap & Update
Maverick Protocol announced the development plans:
Q3 2023
Deploy on BNB Chain
Launch Voting Escrow and Governance contracts
Q4 2023
Launch Boosted Pool Voting
Launch AMM on more chains
H1 2024 (subject to DAO votes)
Launch AMM on more chains
MAV LayerZero support on more chains
Core team, Investors & Partners
Core team
Maverick's project team consists of members who have worked together on the DeFi market. They have served as advisors from MetaMas, BitTorrent, Abra, TrueFi, Paxful, and LedgerPrime.
Investors & Partners
Partners
Maverick partners include:
LST protocols: Maverick supports Liquid Staking Token (LST) liquidity such as wstETH, frxETH, swETH, rETH, cbETH.
Stablecoins: Several stablecoins are currently available on Maverick such as LUSD, FRAX, GRAI, USDC, USDT and DAI.
Liquidity: Launch of LUSD-BASED pool on Maverick on Ethereum and zkSync Era.
Trage Aggregators: Maverick AMM is integrated with trade aggregators on both Ethereum Mainnet and zkSync Era like 1inch, Paraswap, Odos, Cowswap and OpenOcean.
In addition, Maverick also cooperates with other partners such as Toekmak, Galxe... to optimize user experience.
Investors
Maverick Protocol successfully raised $8 million in a funding round led by Pantera Capital. Other investors include below: