Market overview for week 17/2022
Tokens that received the most attention from the market
Here are some names that were most searched by users on CoinGecko in the past week. There were slight changes in the top 5, Radix's XRD token appeared right at the top 1. The Move-to-Earn trend from STEPN still holds a high position after weeks storming the market.
There are also some recently listed names such as ADS by Adshares, ICHI or NYM by NYM Technology.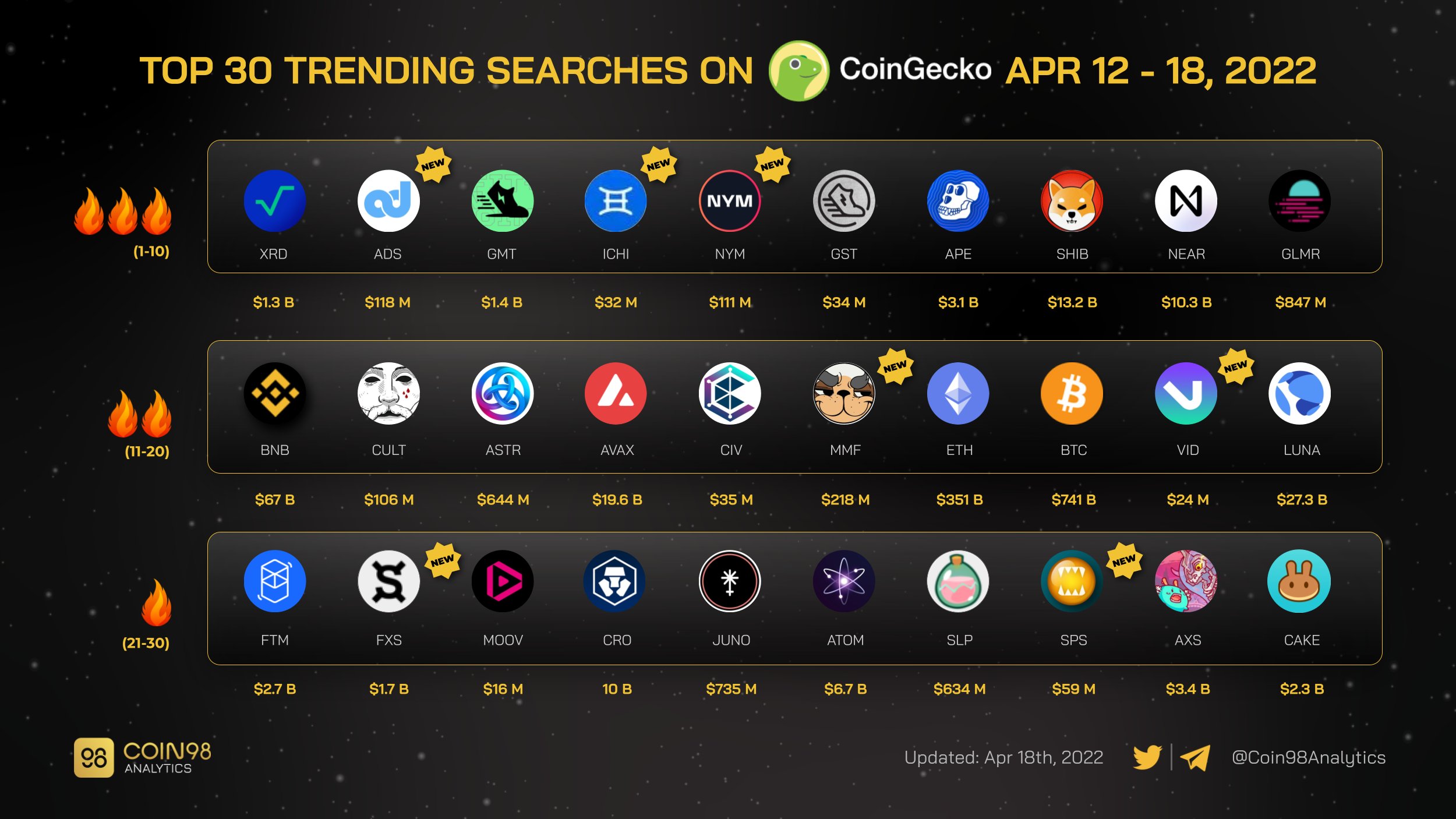 Highlights in DeFi Categories from week 17/2022
Volatility of some stablecoins
Stablecoins are cryptocurrencies that are pegged to assets with a stable price, most of which is USD. Stablecoins are a useful asset in the cryptocurrency market, allowing traders to store assets without worrying about price fluctuations.
But there are also some cases and events that cause the prices of stablecoins to rise or fall as seen in the infographic below. Most of those stablecoins have a certain amount of volatility, such as USDN when it had an ATH of $2.52, USDT had an ATL of $0.57 compared to Abracadabra Money's MIM, there is almost no volatility at all.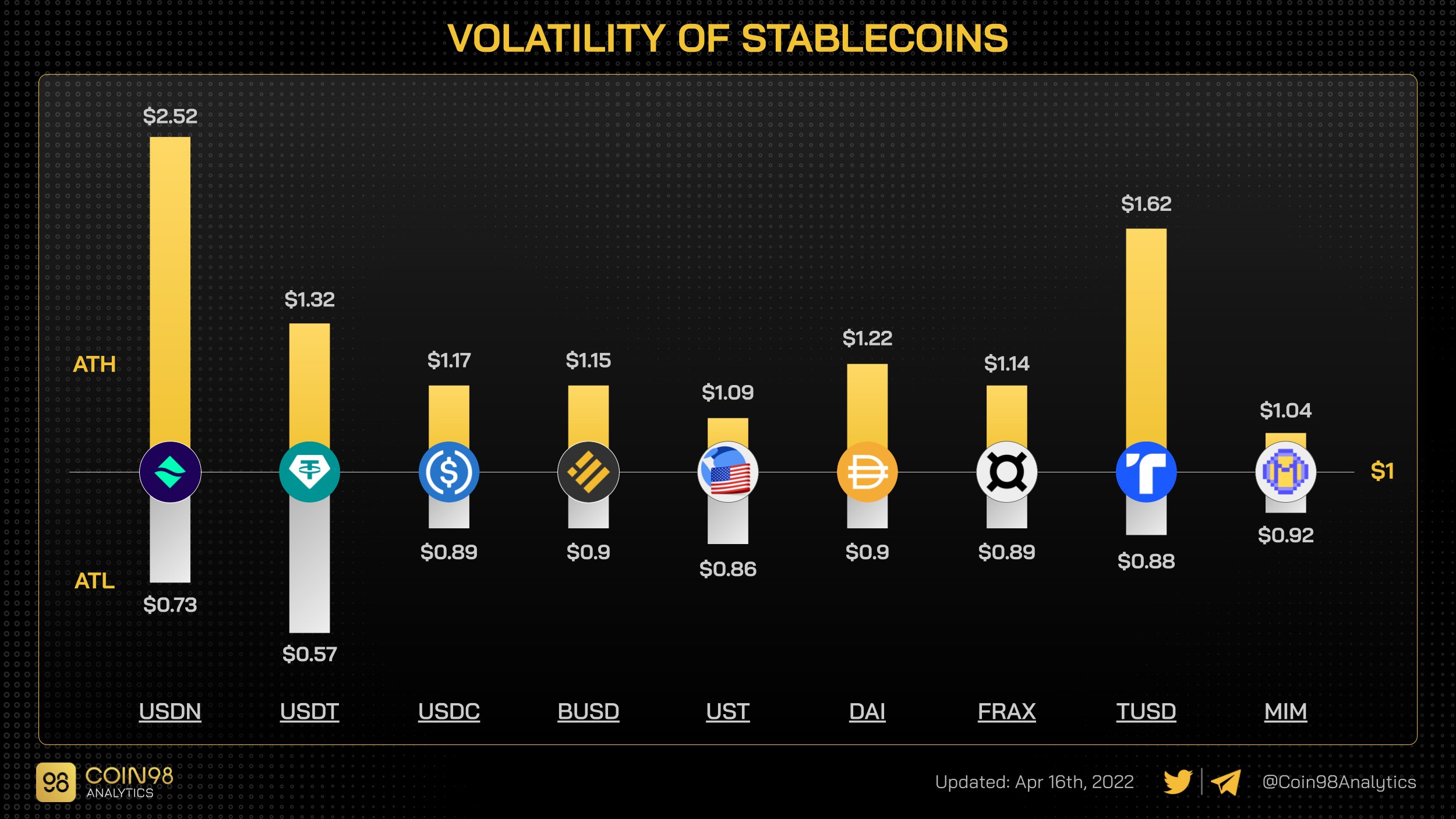 Market Cap/TVL of DEXs
MC/TVL is an index showing which platforms have been undervalued compared to other platforms. To put it more bluntly, a low ratio generally means undervalued. As you can see from the picture, Balancer is ranked at the bottom with the MC/TVL ratio of approximately 0.05. In contrast, Osmosis has the MC/TVL index of 1.56, which is nearly 40 times higher than Balancer. You can see more in the infographic below.
Total transactions on popular blockchains
As you can see, Solana is on top with up to 70 billion transactions executed. This is an impressive number, thanks to Solana's very low transaction fee and fast transaction speed.
Tron, BSC and Ethereum follow in positions 2, 3, 4 respectively.
Polygon, HECO, Algorand are newly launched blockchains and are gradually accelerating in recent times.
7-Day active addresses by blockchains
Below is an infographic that summarizes the number of active wallet addresses on each blockchain within a week.
Topping and far ahead of other blockchains are Solana with 4.26 million wallet addresses and BNB Chain, with 4.14 million, 2 million more than the eldest blockchain, Ethereum.
Besides, we have other blockchains with impressive numbers such as Polygon with 1.04 million addresses, Ronin with 713 thousand, …
Highlights from ecosystems in week 17/2022
What is special about the Chiliz ecosystem?
Chiliz is a blockchain developed entirely for the sports field, Chiliz is also the first blockchain to be applied to the Esport market. This project applies blockchain technology with smart contracts to provide many interesting benefits for fans to apply to their favorite team.
Looking at Chiliz's ecosystem, we can already see a series of big players of each sport in the market have come together, including million-dollar empires such as Barcelona and ​​Paris Saint-Germain. Especially in the field of E-sports, the market where Chiliz is the first project to bring blockchain technology, Natus Vincere and OG Esport are all familiar names.
NEAR Protocol and its recent moves
NEAR Protocol is a blockchain that operates on a Public Proof of Stake and Sharded (shard) mechanism. It is like a community run, highly scalable and low cost cloud platform for developers to create decentralized applications easily.
With special features and user-friendly interface, Near's ecosystem is dense and growing day by day. This year, NEAR has successfully raised more than $500 M, coming from many large Funds. NEAR has also just launched a stablecoin called USN with an interest rate of 10%/year.
Learn more: Near Ecosystem Overview
The Avalanche ecosystem is developing rapidly
Avalanche is an open-source platform that enables the deployment of highly decentralized applications, financial products, digital assets, and interoperable blockchains.
Avalanche is a potential and growing ecosystem. In just 18 months, Avalanche has had more than 480 projects in its ecosystem, with many famous names in other ecosystems . Coin98 wallet is also honored to be a part of the AVAX ecosystem.
Learn more: Avalanche Ecosystem Overview
Optimism- An Ethereum scaling solution
Optimism is a Layer 2 scaling solution on Ethereum to reduce gas fees, speed up transaction completion, thereby providing a smoother user experience while maintaining security from the Ethereum original chain. Optimism belongs to the Optimistic Rollup segment, using a fraud proof security mechanism.
Currently, Optimism has more than 110 projects and partners in its ecosystem. Some impressive numbers of Optimism that can be mentioned are the $800 M on-chain value and a saving of more than $1 B compared to Ethereum. Optimism has been valued at $1.65 B at the time.
Learn more: Optimism Ecosystem Overview
Conclusion
Above is all the remarkable information compiled by the Coin98 Insights team. If there are errors in information synthesis or any other problems, please don't hesitate to leave a comment down below. See you in the next episode of "On The Road"!