What is Ordichains?
OrdiChains is a cross-chain bridge protocol on Bitcoin Ordinals which supports switching BRC-20 tokens between any chain, increasing the capital utilization of BRC-20 tokens.
OrdiChains supports the Ethereum network and Ordinals protocols. As a next step, Ordichains will support Arbitrum, zkSync Era, BNB Chain, Optimism, and Polygon.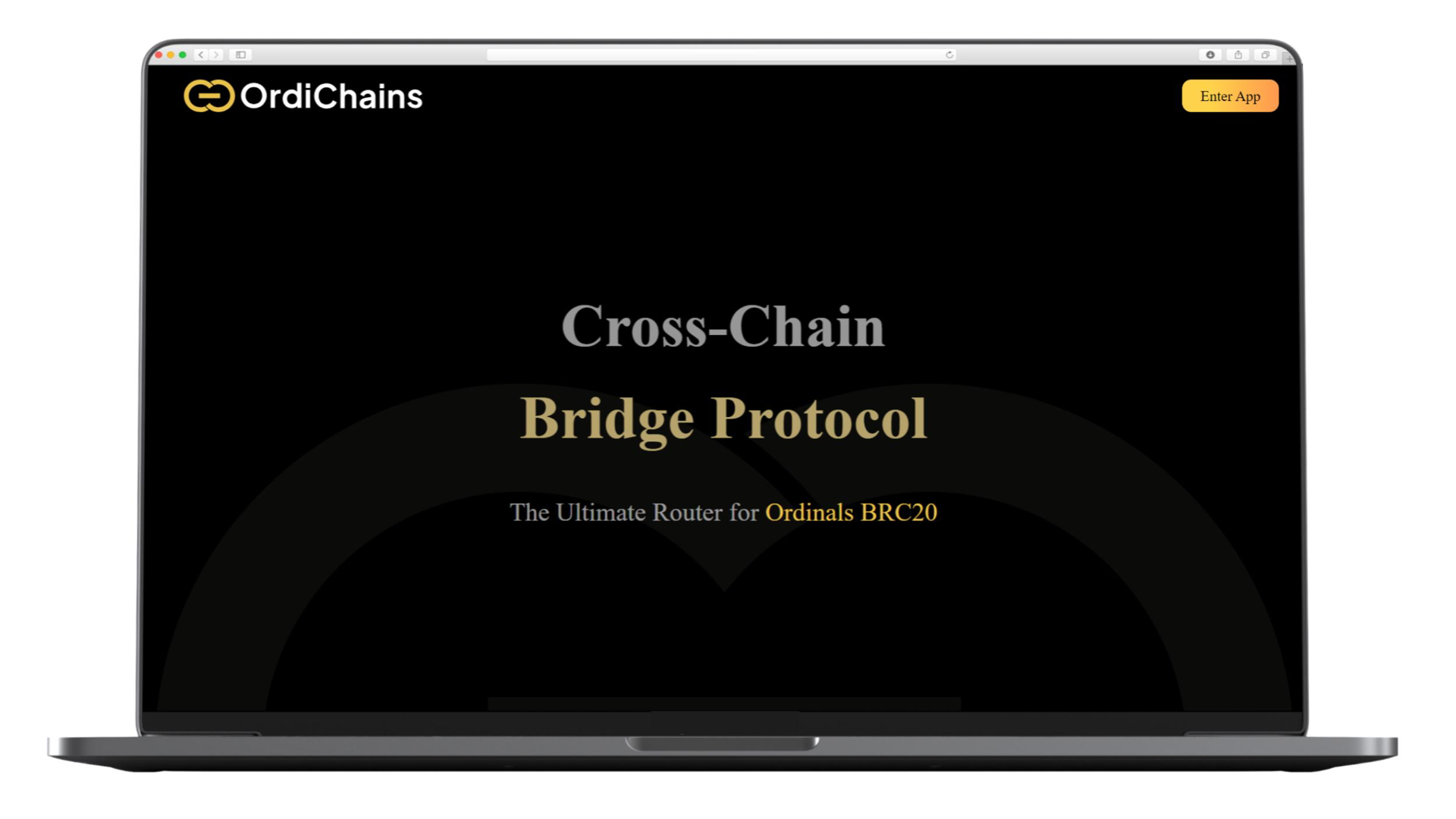 Why OrdiChains?
Ordichains is the first real Ordinals cross-chain bridge that supports switching between any chain and BRC-20 token.
*Ordinals is a technology that allows users to embed text, images, audio, video, and other assets into each Bitcoin "satoshi" unit (each of which has been assigned a number based on the order). Thereby creating unique digital assets known as Bitcoin Ordinals (or called Bitcoin NFT).
Ordichains bridge ensures that the swap ratio between any chain is 1:1. For more details, the protocol not only allows users to complete transactions whose slippage fee is 0 but also eliminates the corresponding hidden fee to AMM (such as impermanent loss).
The functions of Cross-chain Bridge Ordichains:
Validate and transfer data between chains, ensuring data integrity, accuracy, and reliability.
Convert data from the original chain into a format suitable for the target chain, mapping the data to maintain consistency.
Users and applications can subscribe and utilize data from other chains on the target chain, enabling data interoperability across different chains.
In addition, Ordichains also implements security and privacy measures for users by:
Verifying the collected data and the validator's identity to ensure data reliability and authenticity.
Using encryption algorithms and privacy protection techniques to secure the transmission and storage of data, preventing data leakage and tampering.
OrdiChains codes and protocols undergo security auditing and also deploy monitoring mechanisms to promptly detect and address potential security threats.
Adopting ZK (zero-knowledge) encryption algorithm to enhance security, stability, and privacy.
In short, the Ordichains protocol works with the orientation of becoming a gateway that allows users to easily interact with the Bitcoin Ordinals network, thereby helping to expand and develop the BitcoinFi ecosystem.
Features on Ordichains
Bridge
In Ordichain, the Bridge feature provides to transfer of BRC-20 tokens directly between any chain with a 1:1 ratio. Users have to pay 2 fees to conduct the transaction:
Cross-chain fee: 0.2%
Gas fee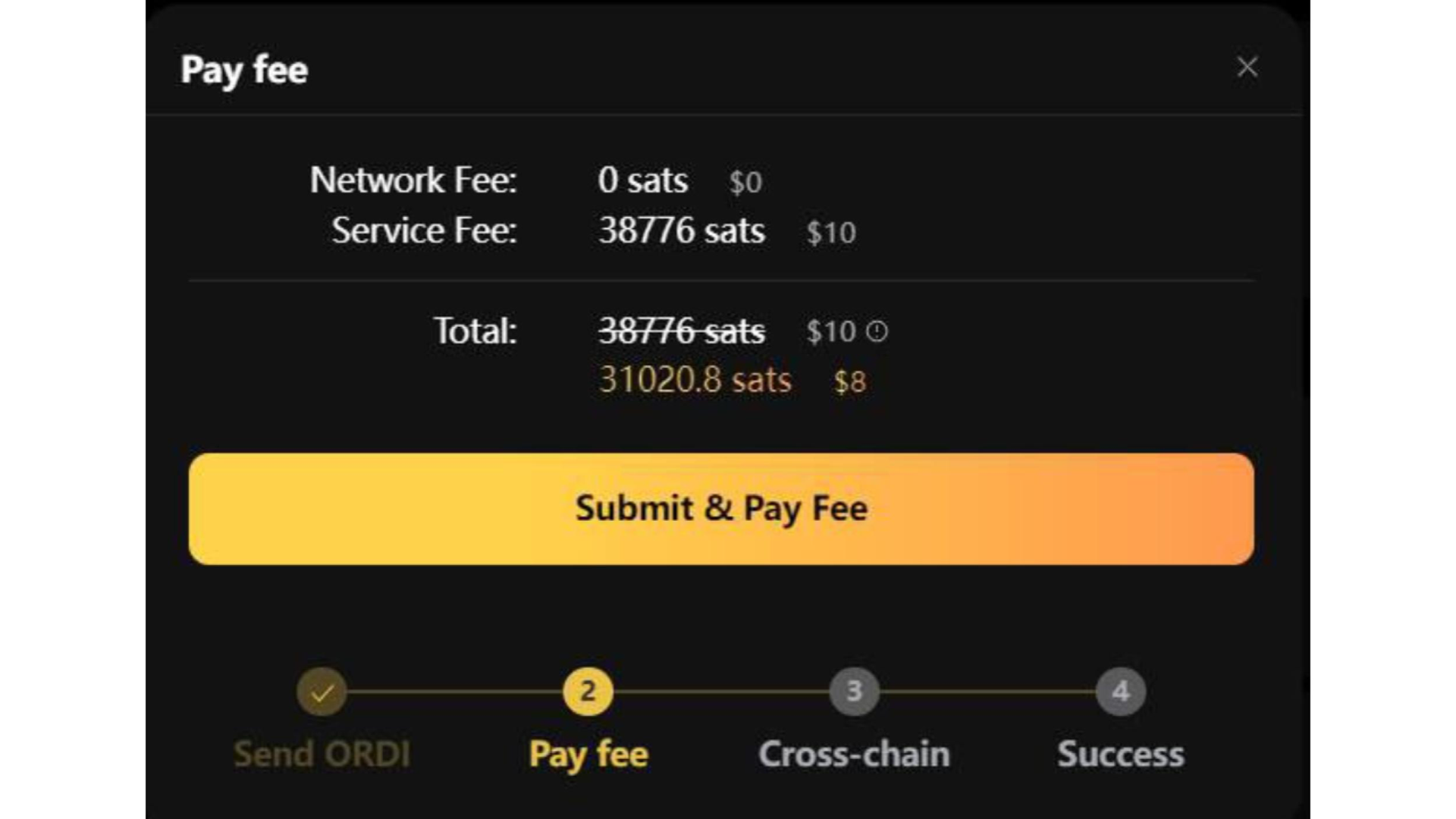 Depending on the market situation, cross-chain fees will fluctuate from 19.9 USDT - 1,000 USDT. However, users can pay by OICH token (the project's native token) to enjoy a 20% discount rate.
Some notes when transferring assets on Ordichains:
The minimum value is 300 USDT.
The maximum value is 500,000 USDT.
The estimated time to complete the asset transfer is 30 - 90 minutes.
The asset transfer time can be up to 12 hours for transactions worth more than 300,000 USDT.
Ordichains bridge currently supports 3 tokens (OICH, ORDI, MEME) and 2 blockchains (Bitcoin & Ethereum).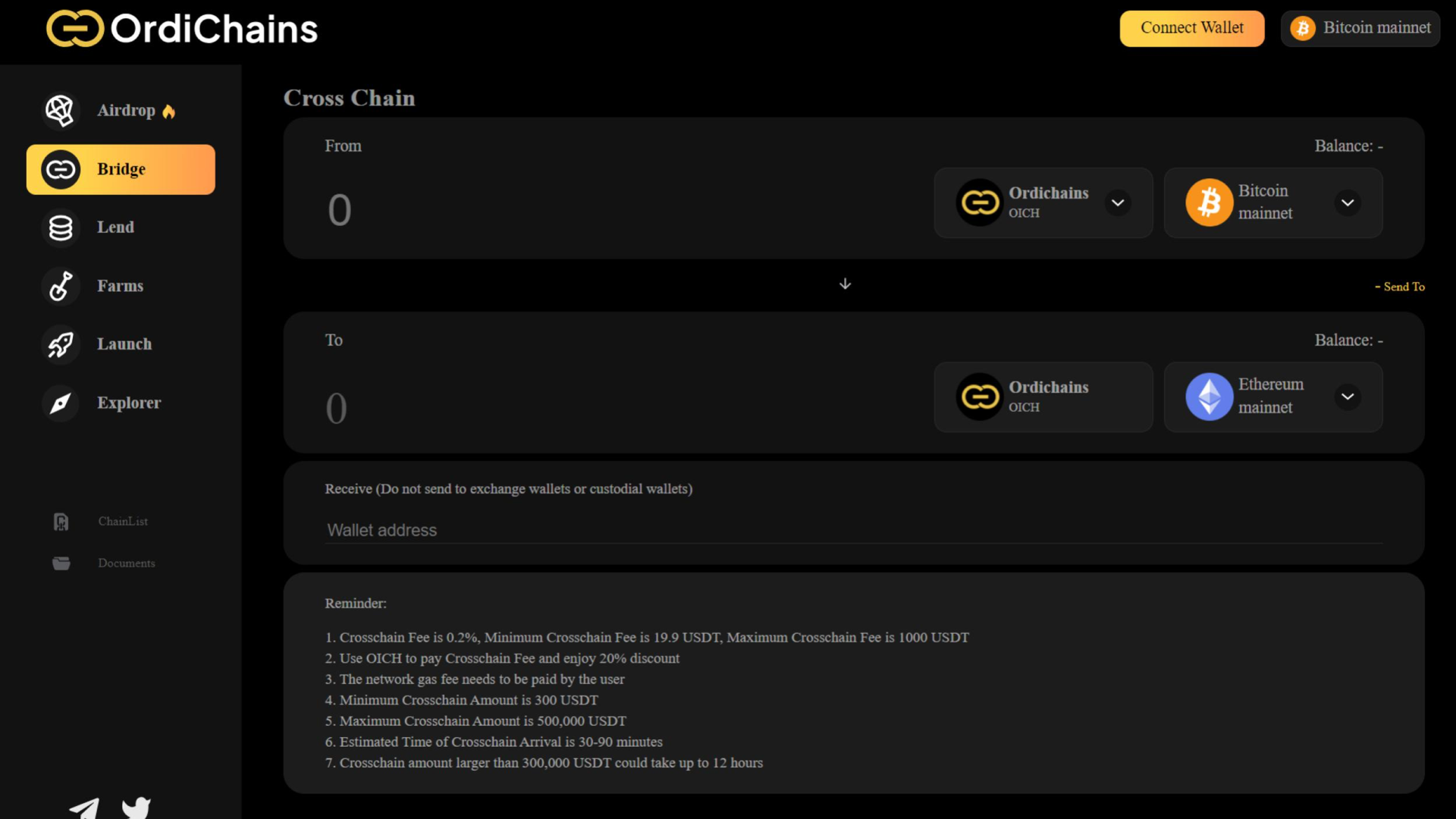 Lend
The Lend feature allows users to deposit their digital assets into smart contracts to lend to others and earn interest. Borrowers can utilize OrdiChains for lending and borrowing ORDI, enabling them to engage in trading, investments, or other purposes.
At protocol, users can track their position and information about the lending and borrowing market on Ordichains.
The protocol supports lending with most BRC20 tokens and some tokens of chains such as BTC, ETH, USDT, USDC, BNB, ARB, and OP. This makes the project scalable and attracts a large number of users from those chains.
However, the Lend feature is still under development.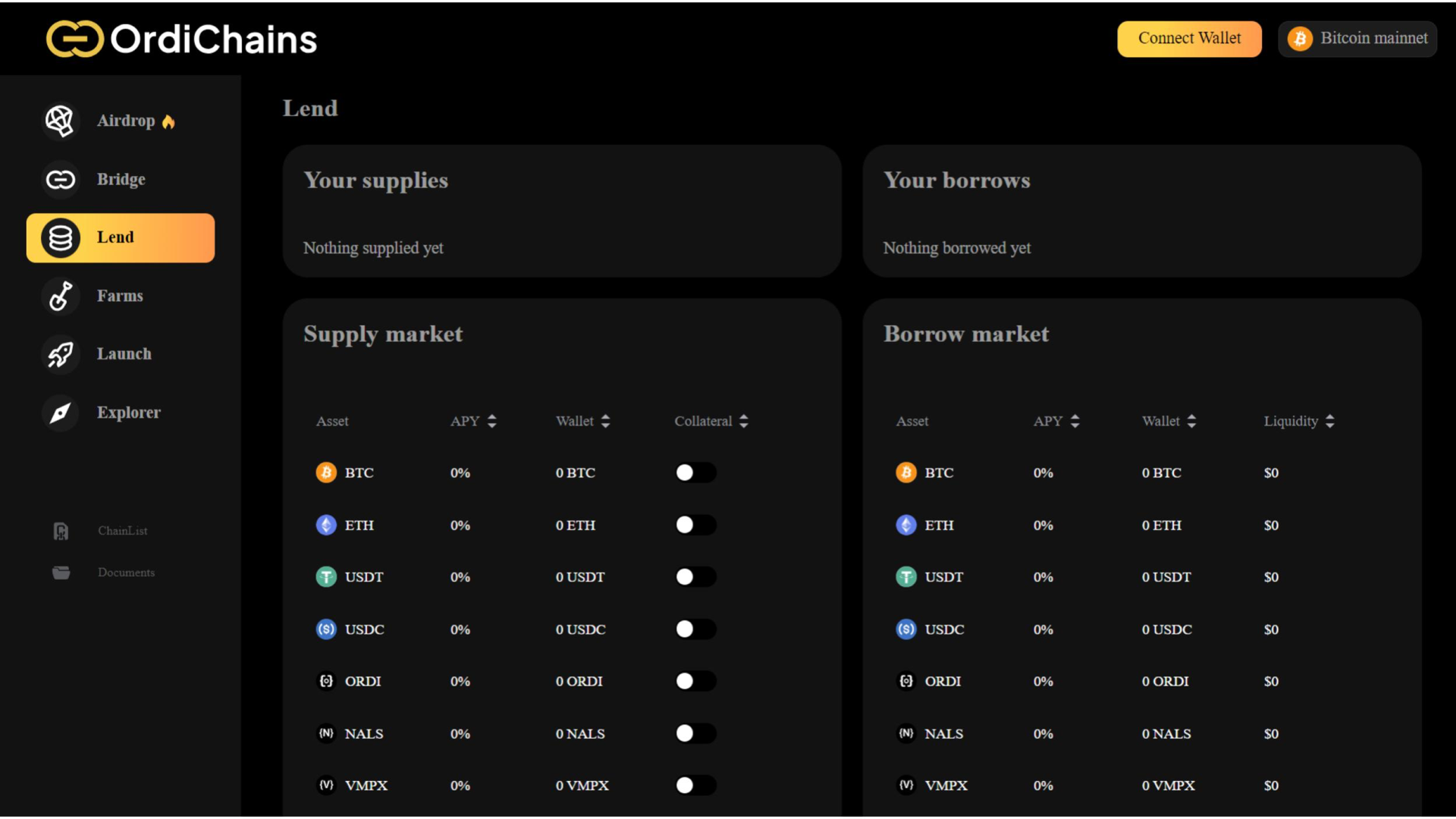 Farms
Farms refers to the process of earning token rewards by providing liquidity or participating in other protocol activities.
After using the cross-chain bridge, users can stake their BRC-20 tokens (such as ORDI on Ethereum network) to provide liquidity and earn OICH tokens as a reward.
However, the Farm feature is still under development.
Launch
The Launch feature supports BRC-20 projects to launch and raise capital through a public token sale.
The project also completed the public sale round on Ordichains Launch for OICH token on June 4th, 2023.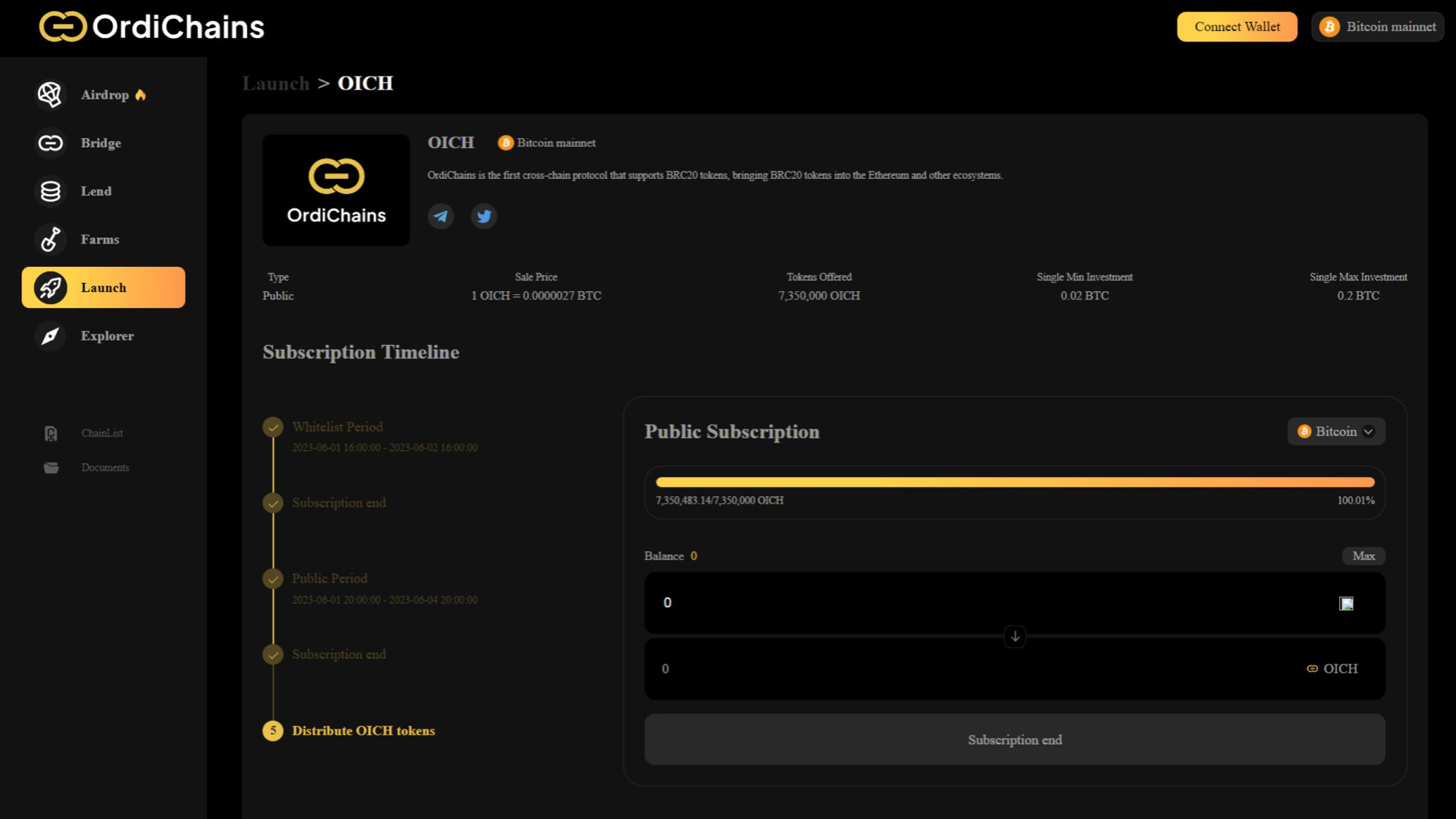 Open sale of OICH token on Ordichains Launch
Explorer
When clicking on the Explorer feature on Ordichains, users will be redirected to the explorer.btc.com website.
This is a browser for Bitcoin, Ethereum, BitcoinCash, Litecoin, and Ethereum Classic blockchains. Users can search and view information about wallet addresses, TxHash, Block, tokens...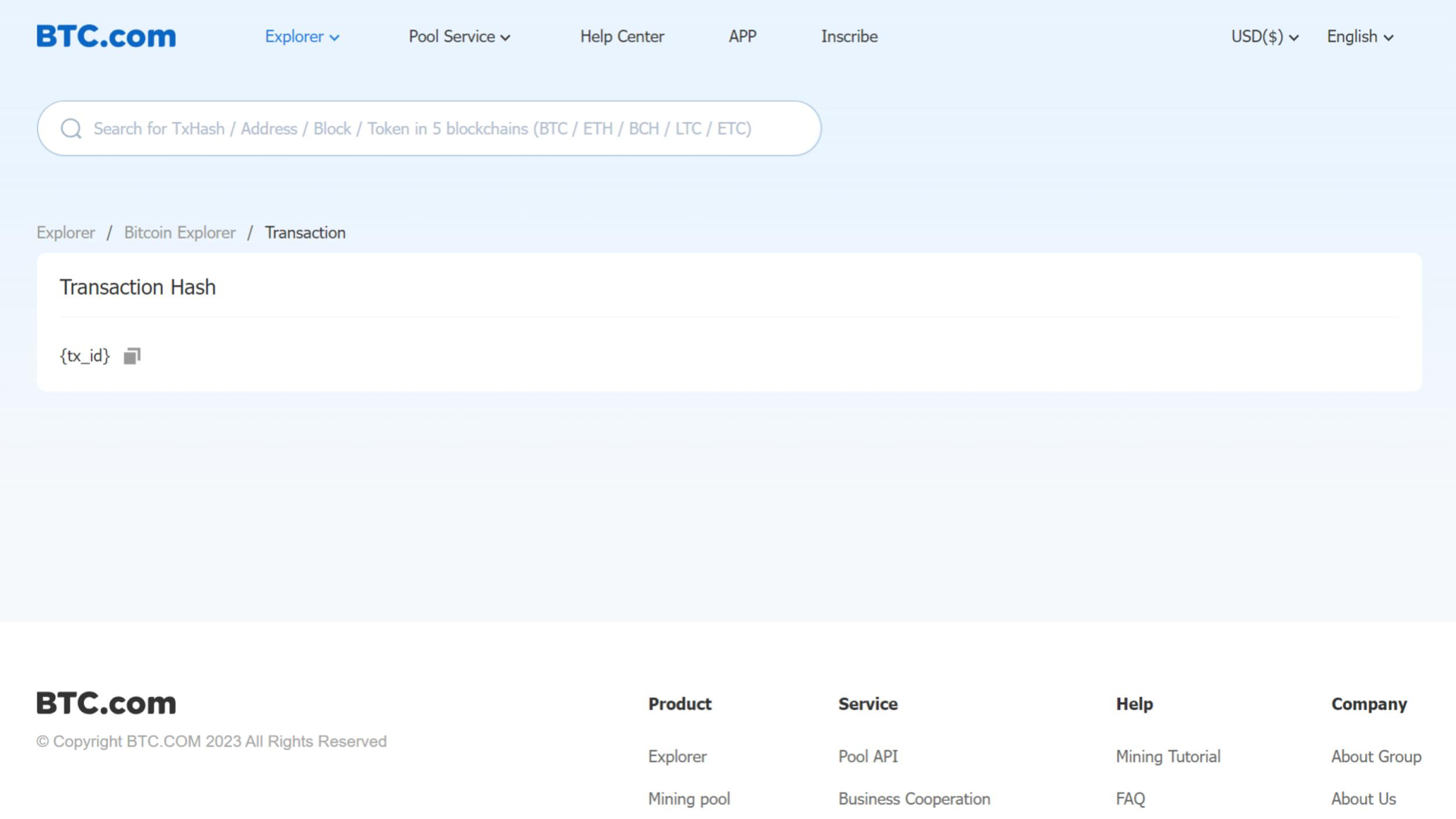 Airdrop
Protocol may require users to perform simple tasks in order to receive rewards.
What is Ordichains Token?
OICH Token Key Metric
Token name: Ordichains
Ticker: OICH
Token Standard: ERC20
Blockchain: Ethereum
Token contract: 0x1f5F7Ae4476686Fd9E331B8A6cb7648187010976
Token Type: Utility
Token Supply: 21,000,000
Token Circulating Supply: Updating…
OICH Token Allocation
Information of OICH Token Allocation is below:
Ecosystem: 50% equivalent to 10,500,000 OICH token
Initial BRC-20 Offering (IBO): 40% equivalent to 8,400,000 OICH token
Core Technical Development & Community Strategic Partnerships: 10% equivalent to 2,100,000 OICH token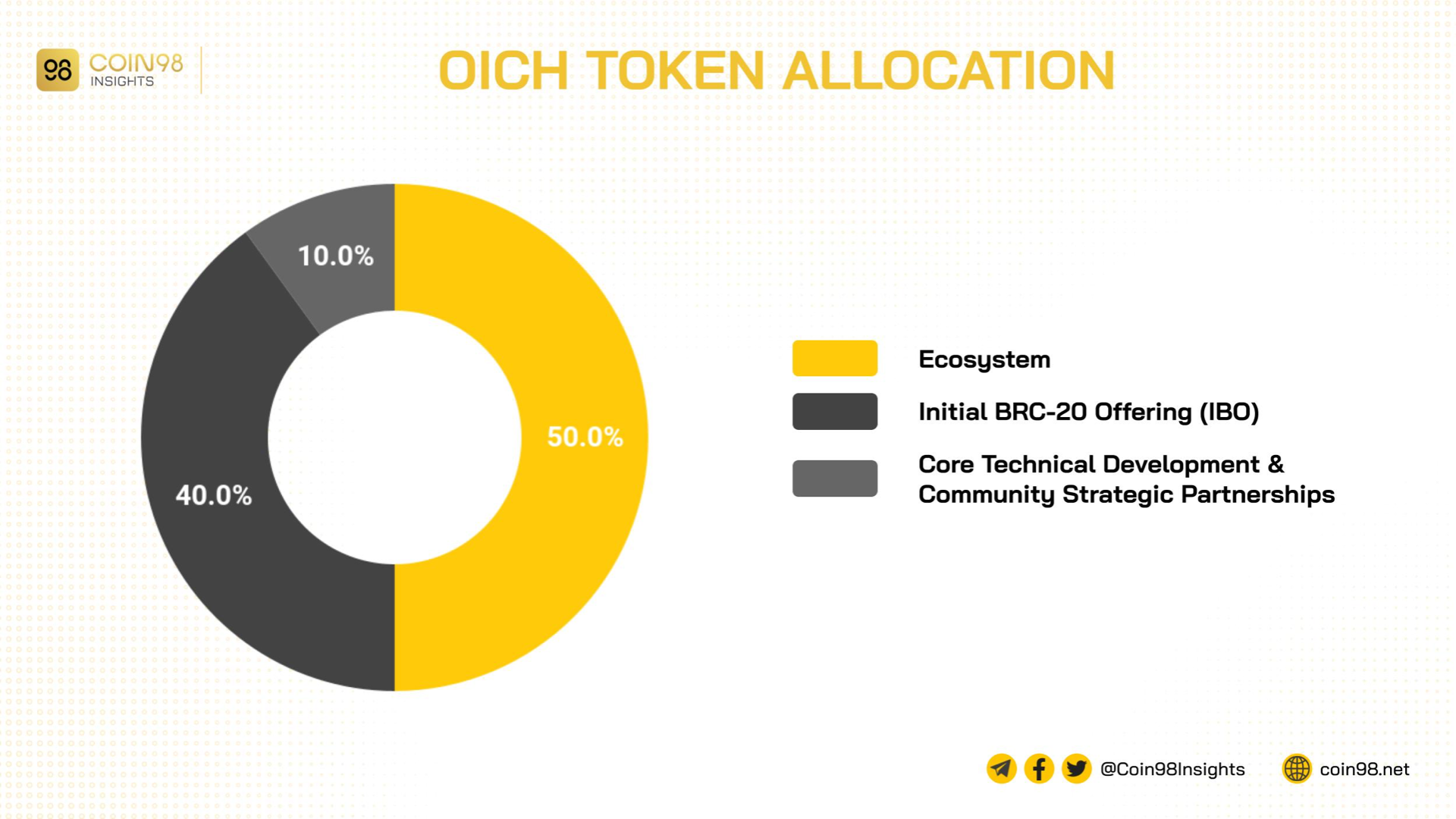 OICH Token Sale
OICH token has completed the Public Sale on Ordichains, the information below:
Price: 1 OICH = 0.0000027 BTC
Total Tokens: 7,350,000 OICH
OICH Token Release Schedule
There is no information about the OICH token unlocking schedule.
OICH Token Use Case
The OICH token is used in the following cases:
Cross-chain fee discount
Cross Chain rewards program.
Participate in voting issues related to project governance.
List fundraising projects on the Launch feature.
Incentive rewards provide liquidity on the Ordichains platform.
OICH buyback & burn mechanism to reduce OICH supply.
Roadmap & Update
OrdiChains 1.0 (Complete)
Implement BRC-20 peer-to-peer cross-chain bridge to the Ethereum network.
Enhance the BRC-20 token with DeFi financial attributes.
Launch Farm and Lend functionalities.
Conduct the initial token sale for the OICH platform token.
OrdiChains 2.0
Expand to support multi-chain bridge transfers and increase the variety of supported cross-chain connections.
Promote cross-chain integration of more ecosystems using the Ordinals protocol.
Enable cross-chain functionality for Ordinals NFTs.
Introduce DeFi financial attributes for Ordinals NFTs.
Launch the Launch feature to facilitate the release of high-quality projects.
OrdiChains 3.0
Become a bridge connecting various public blockchains.
Support a wider range of public chains and digital assets.
Establish industry standards for cross-chain integration based on the Ordinals protocol.
Enable cross-chain functionality for more protocol token types, such as BRC-20, ORC-20, and SRC-20.
Core team, Investors & Partners
Core team
Ordichains project team members include:
Frank: Contract development
Levin: Full stack developer
Leon: Community operations
Bill: Product Director
Investors
There is no information about Ordichains investors yet.
Partners
Ordichain's main partners are OKX Wallet, HyperPay Wallet, and Unisat Wallet.