The Open Network (TON) is a decentralized layer-1 blockchain built by Telegram. Its performance allows processing millions of transactions within seconds. The Ton blockchain's vision is to make blockchain technology accessible for the world, making asset transactions as simple as possible.
To be able to skin in this blockchain, of course, you will need a TON Wallet. In today's article, I will show you the details on how to create a TON Wallet.
What is TON Wallet?
The TON wallet is where TON and TON721 standard tokens are stored on the TON blockchain. You can send and receive TON tokens as well as interact with applications on the TON platform.
In particular, this wallet is owned by you, so no one has the right to influence or use the wallet other than you.
What is included in a TON Wallet address?
A TON Wallet has 2 extremely important pieces of information you must take note:
Wallet address: A sequence of numbers and characters used to send assets to the TON wallet. Others can transfer coins to you through the wallet address you provide. A TON wallet address will have the following format: EQC9pbhSTfnA6d3nuJReYXFSOLHGcHaiPRtBtwJBoJlUv3r-
Passphrase: A security key that can be understood as a password consisting of any 12 English keywords. If you want to perform the wallet recovery operation, you must go through the Passphrase login step. Format of a Passphrase: diamond much flame kitchen rubber potato poor piece strong dynamic machine old.
To visualize, you can imagine that the TON wallet is a bank account, the wallet address is the account number and the passphrase is the password.
The difference here is that with a bank account, other people will know your personal information. As for the TON wallet, the user becomes anonymous, no one knows who owns the wallet, and transactions only occur through the address encoded into a sequence of numbers and characters.
TON Wallet Review
There are many wallets on the market that support creating the TON blockchain. Let's take a look at some outstanding TON wallets in the crypto world.
Coin98 Super App
Coin98 Super App is a well-known super app containing crypto services, and it is the gateway of DeFi & Web3. After installing the Coin98 Super App, you can experience many of its features such as Dapp Browser, Terminal toolkit, Coin98 Staking,...
Because it is a decentralized wallet platform, users are in complete control of their assets, no one has access to your wallet, including the developers. You can rest assured when storing TON tokens here.
Learn more: What is Coin98 Super App?
TON Wallet
The official wallet of the TON ecosystem, TON Wallet, enables users to store TON and TON721 tokens. Also, TON Wallet allows the users to access TON dApps on a variety of different operating systems, including MacOS, iOS, and Android.
Create a TON Wallet here: ton.app/wallets
How to create a TON Wallet on Mobile
This tutorial will guide you on how to create a new TON wallet on both the mobile and desktop interfaces, so you can also install both to flexibly switch use.
Download and access the Coin98 Super App
TON wallet is now available on the Coin98 Super App for both iOS and Android users:
After downloading the app, open the Coin98 Super App application and select the language you want to use before directly accessing the wallet interface.
At this interface, you can create a new wallet or restore an existing wallet from other wallet applications to the Coin98 Super App.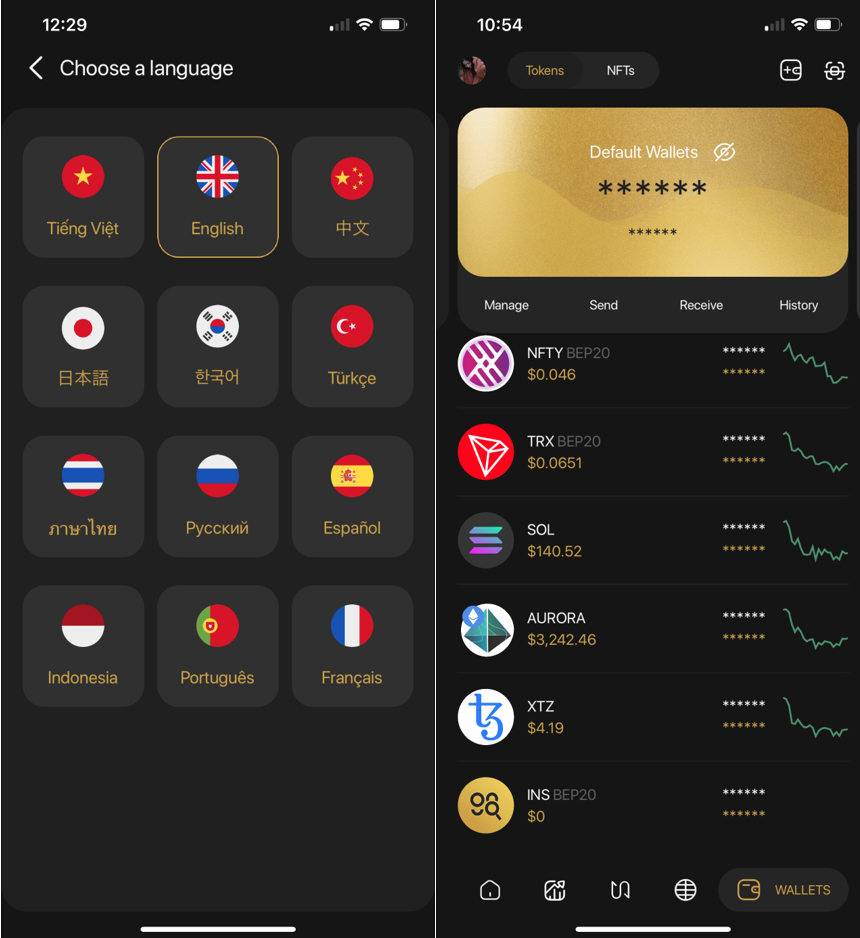 Create the TON wallet
Step 1: Open the application, at the homepage click the Wallet icon → Manage.
Step 2: Click Add Wallet and click on the TON (TON TON721) icon to create a TON Wallet, or you can choose to create a Multi-chain wallet to own more wallets with just one passphrase (recommended) → Create.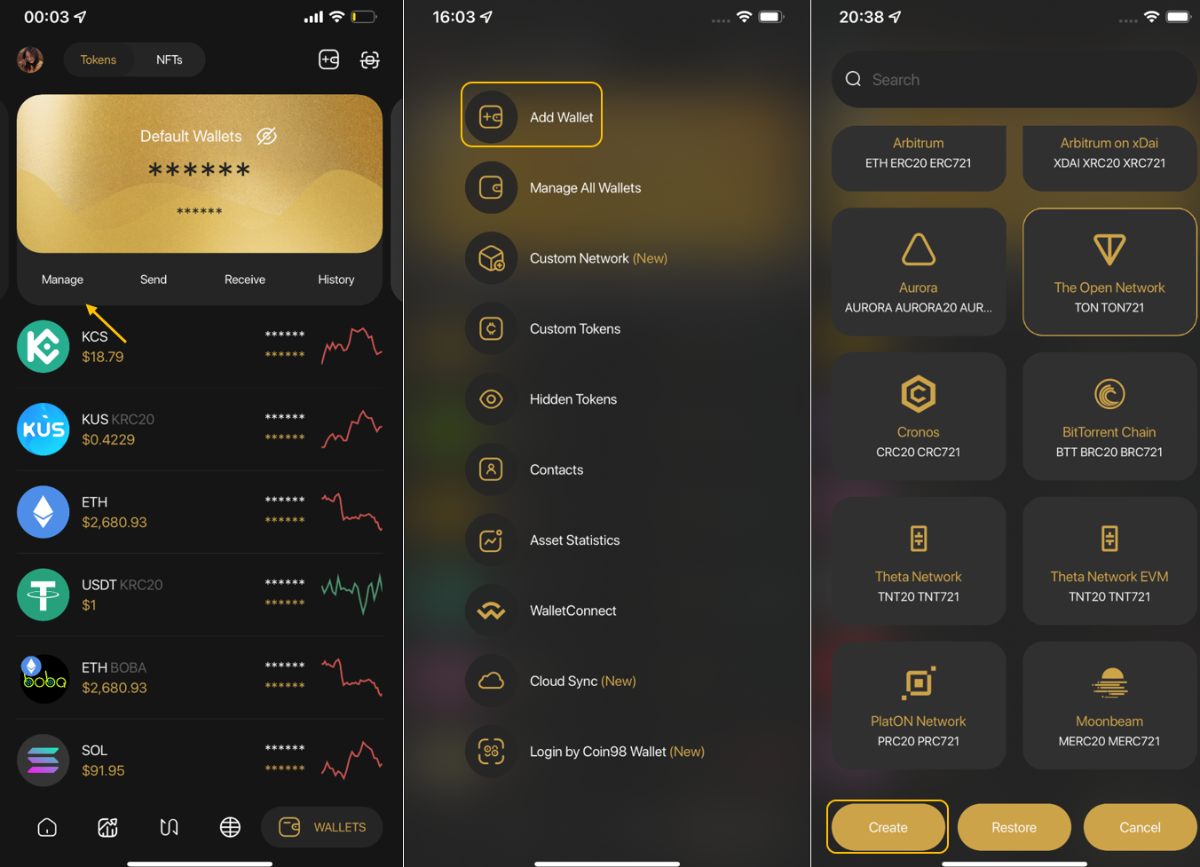 Step 3: Create a name for the wallet (name it something that you can remember or is convenient for er use). Click Next.
Step 4: Back up the Passphrase in a safe place.
Note: These are CRUCIAL information that directly affects control over your assets.
Copy and paste the Passphrase into the Confirmation box.
Tick ​​the Backup your recovery key box and click on the copy icon to confirm that you have saved your Passphrase/Private key. You must save the security key in a safe place and do not disclose it to anyone. Otherwise, your account is at risk of being stolen if someone knows these sequences of characters.
Tick ​​the two remaining boxes to confirm that you understand the risks if you lose your Passphrase.
Click Create Wallet.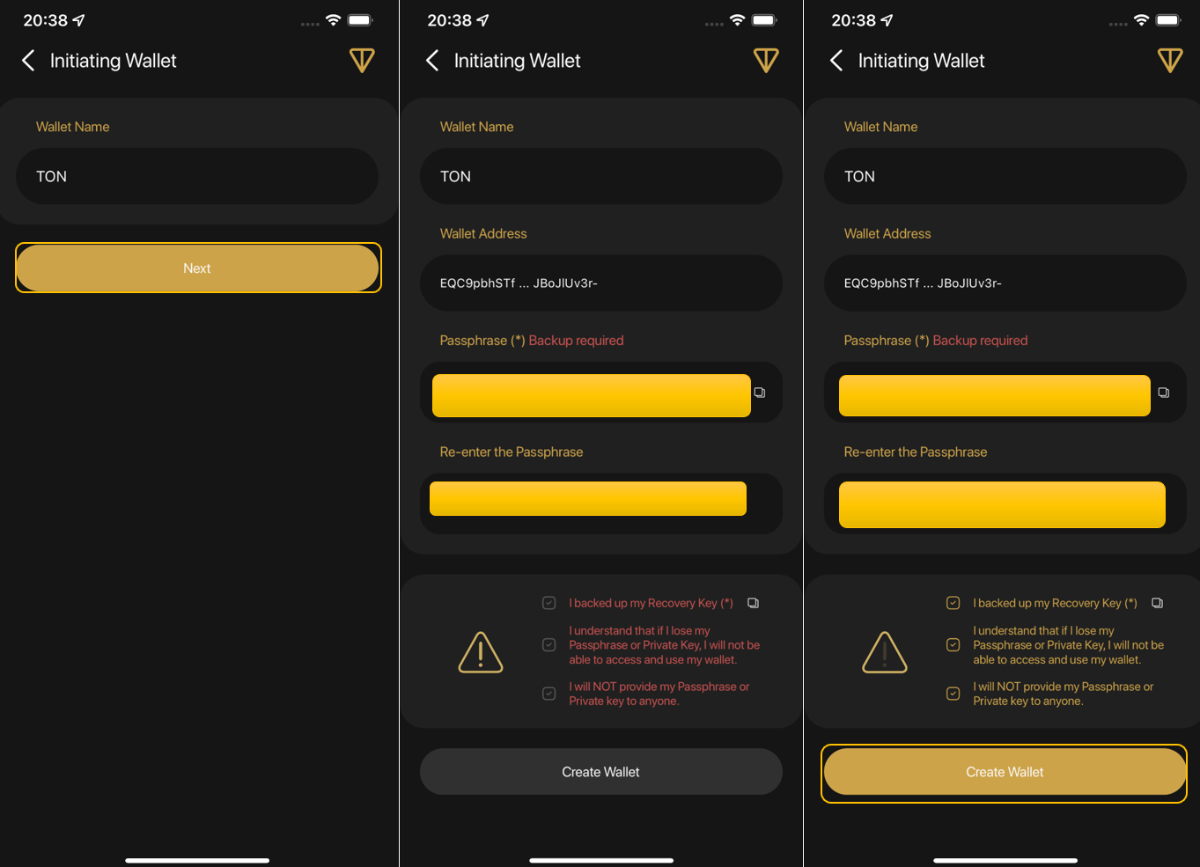 Once done, you can also go to Manage → Manage All Wallets to check the newly created TON wallet.
How to create a TON Wallet on Desktop
Install Coin98 Extension Wallet
You can access chrome.coin98.com to install the Coin98 Extension Wallet.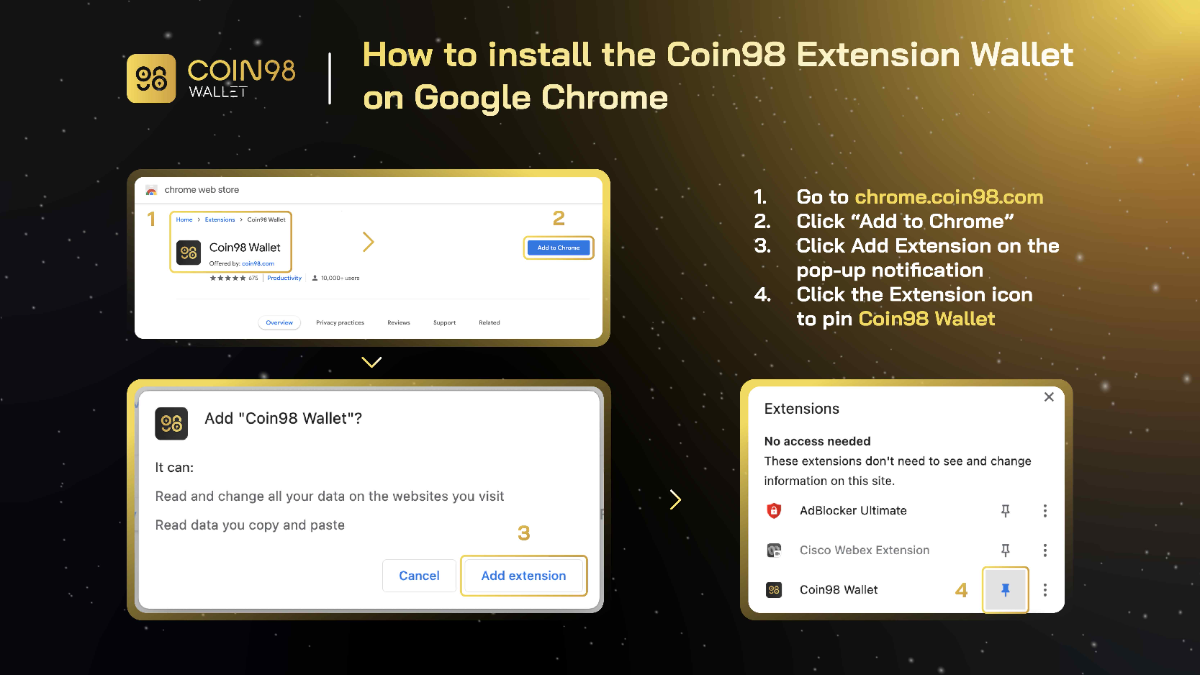 For instructions on installing and using Coin98 Extension Wallet, you can refer to this guide here.
Create the TON wallet
Step 1: Open the Coin98 Extension Wallet and insert your password. At the main interface, click Manage. Click Add Wallet.
Step 2: Select the TON wallet icon → Create Wallet.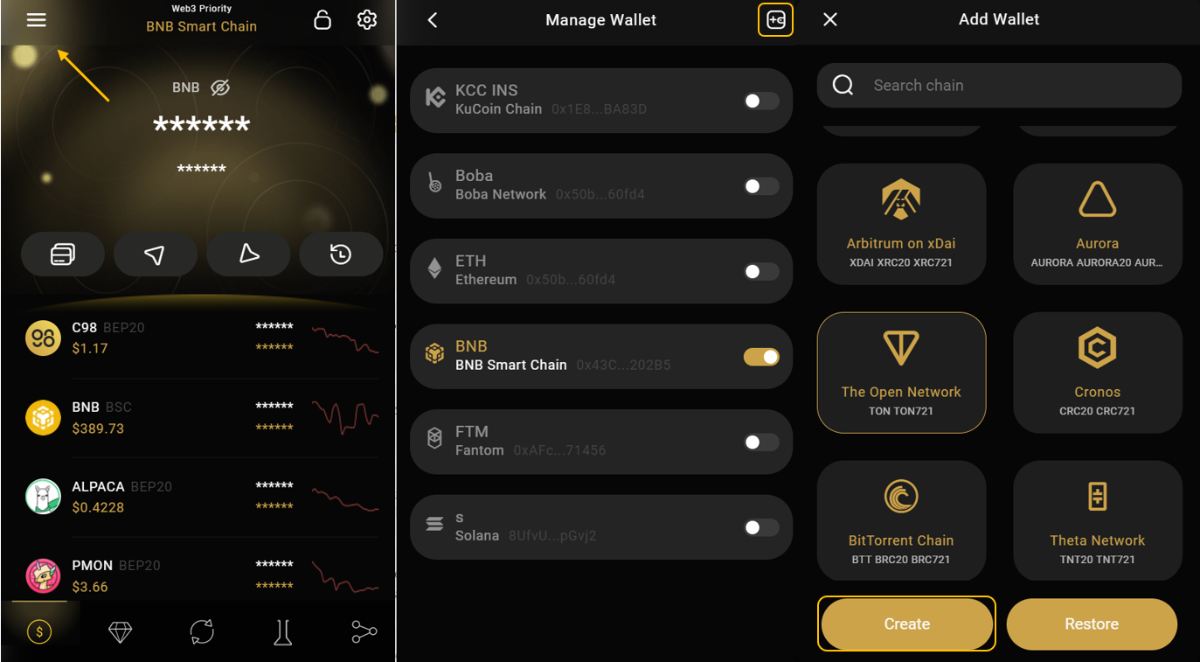 Step 3: Create a name for the wallet (name it something that you can remember or is convenient for later use). Click Next.
Step 4: Backup the Passphrase/Private key in a safe place.
Select Create Wallet.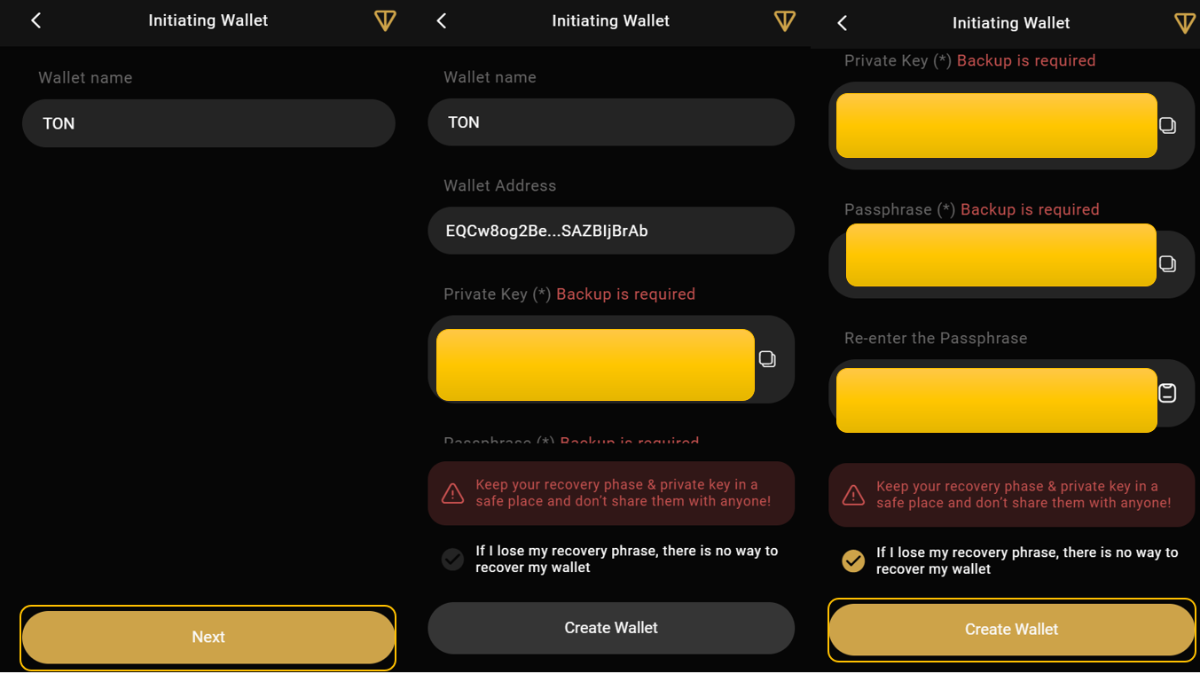 How to use the TON Wallet
Add tokens
Option 1
This process is similar on both the mobile version and the extension, so you can follow these steps for both.
Step 1: Click the TON wallet on the main screen.
Step 2: Click Receive.
Step 3: Copy the wallet address or use the QR code address and send your assets to this address.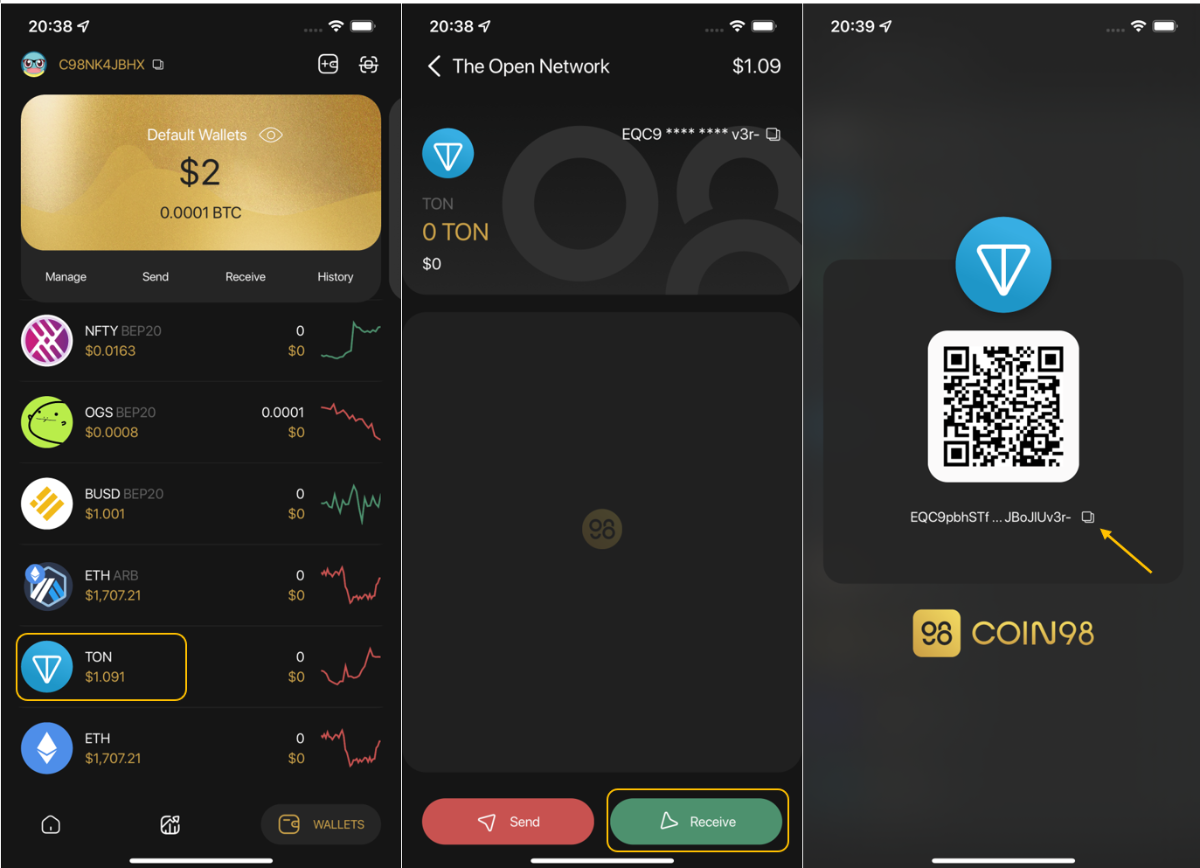 Option 2
Step 1: Click the search icon or Receive on the main screen.
Step 2: Enter TON, TON721 token in the search bar.
Step 3: Click the icon to copy the wallet address or get the QR address and send your assets to this address.
You can send TON, TON721 tokens to the address copied in step 3.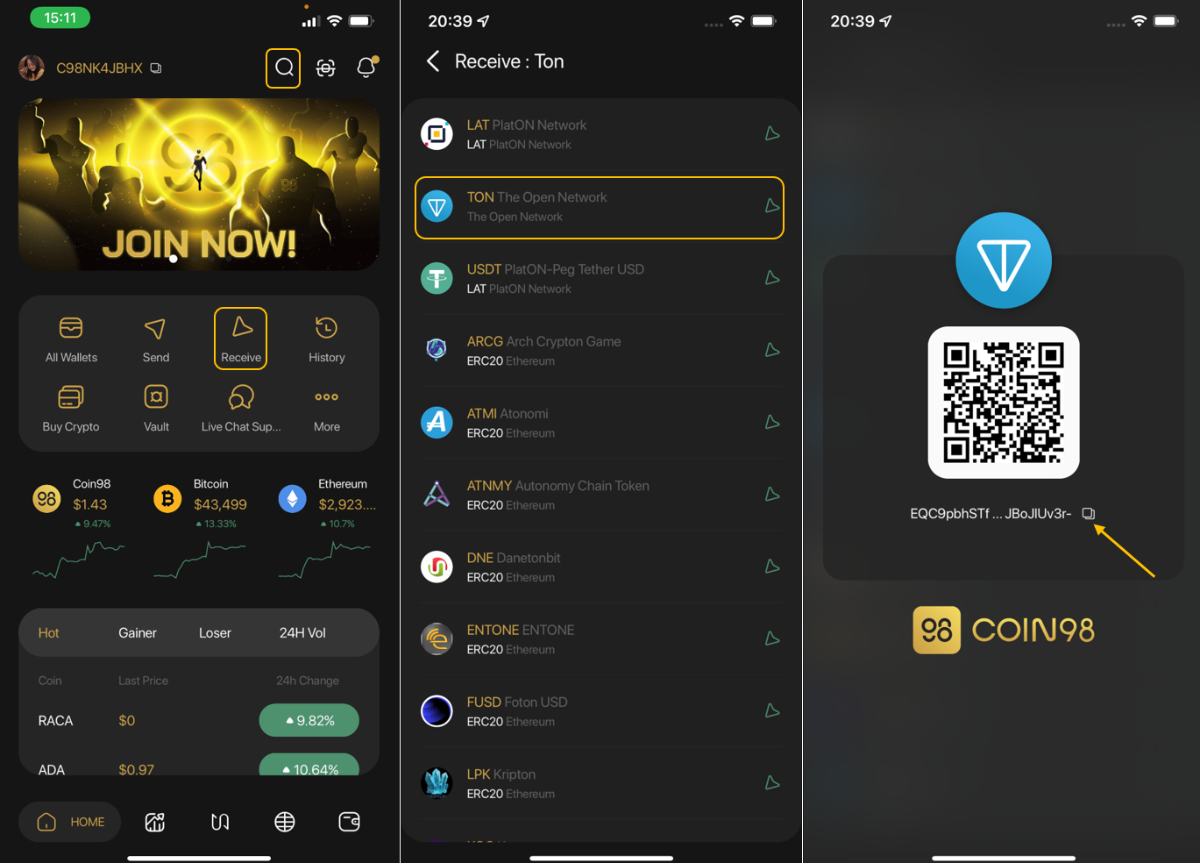 Send TON tokens
This operation works the same on both the Coin98 Super App and the Coin98 Extension Wallet. I will give an example of how to send TON stored in the mobile wallet.
Step 1: Click the TON wallet
Step 2: Choose Send.
Step 3: Select the token, insert the number of tokens you want to send & the wallet address to send to. Adjust the Gas fee slider to suit your needs → Slide the Send bar to confirm.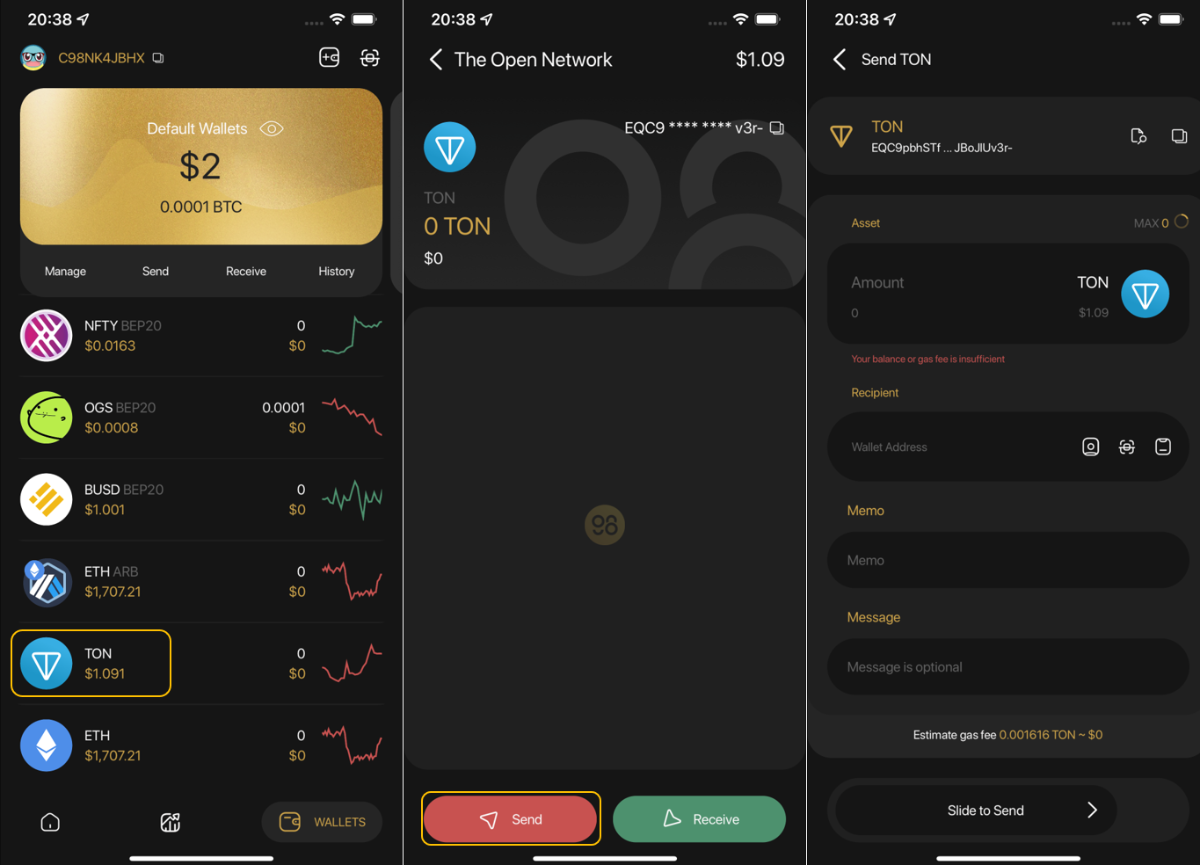 In addition, you can also go to the Send section in the main interface, select the TON wallet you want to send from.
Note:
The gas fee for each transaction is paid with TON, approximately 0.001616 TON
The default gas fee on the Coin98 Super App has been set at the standard rate that offers the most optimized speed at a reasonable cost.
Use the TON Wallet Explorer to check the transaction history
TON Wallet Explorer is the TON ecosystem explorer, allowing access to information such as wallet addresses, cryptocurrency transactions, smart contracts, etc. Complex data is easier to grasp now than ever before.
Tonscan is the first explorer to be verified by the TON team. But you can also check other explorers via this link.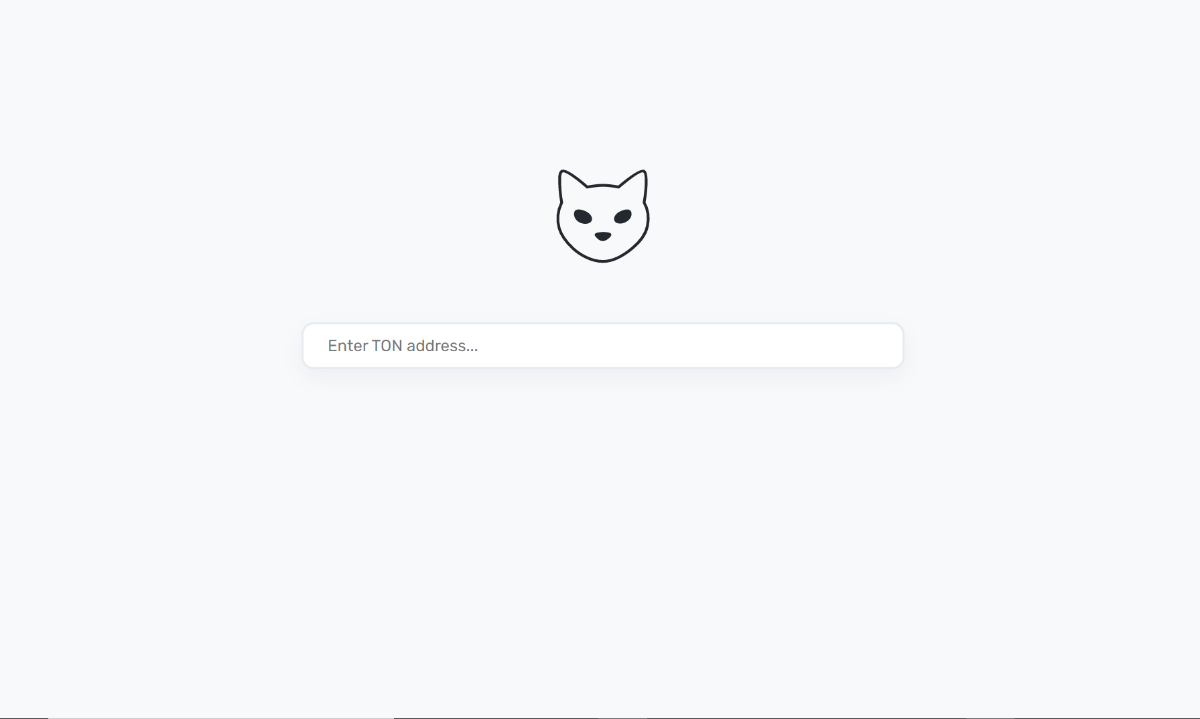 Some notes when using the TON wallet
Is it safe to store TON tokens in the TON wallet?
Coin98 is a non-custodial wallet, that is, full control of assets belongs to you, no one has access unless you disclose the key to others. Therefore, it is perfectly safe for your assets.
Is there a fee to transfer TON tokens?
Sending TON tokens from a TON Wallet will cost the blockchain platform fee in TON.
Is it possible to create multiple TON wallets?
Yes! You can create as many TON wallets as you want. Each wallet will have a different address and passphrase, so remember to save each of them. Each wallet should be named so that you can easily manage them if you create multiple TON wallets.
Can TON wallets store other coins?
TON wallets can store TON tokens supported by the TON blockchain platform. Otherwise, do not transfer any coins on other blockchain platforms to your TON wallet if you do not want to lose your assets.