MetaMask and BNB Smart Chain (BSC) are the two reputable names in the crypto space. In this tutorial, we will introduce you to MetaMask and BSC, and how to add BSC to MetaMask.
About Metamask and BSC
What is MetaMask?
MetaMask, owned by ConsenSys, is a crypto wallet used to interact with the Ethereum blockchain, available for users as a web browser extension and a mobile wallet. As a crypto gateway, MetaMask can be used to connect to other blockchains besides Ethereum.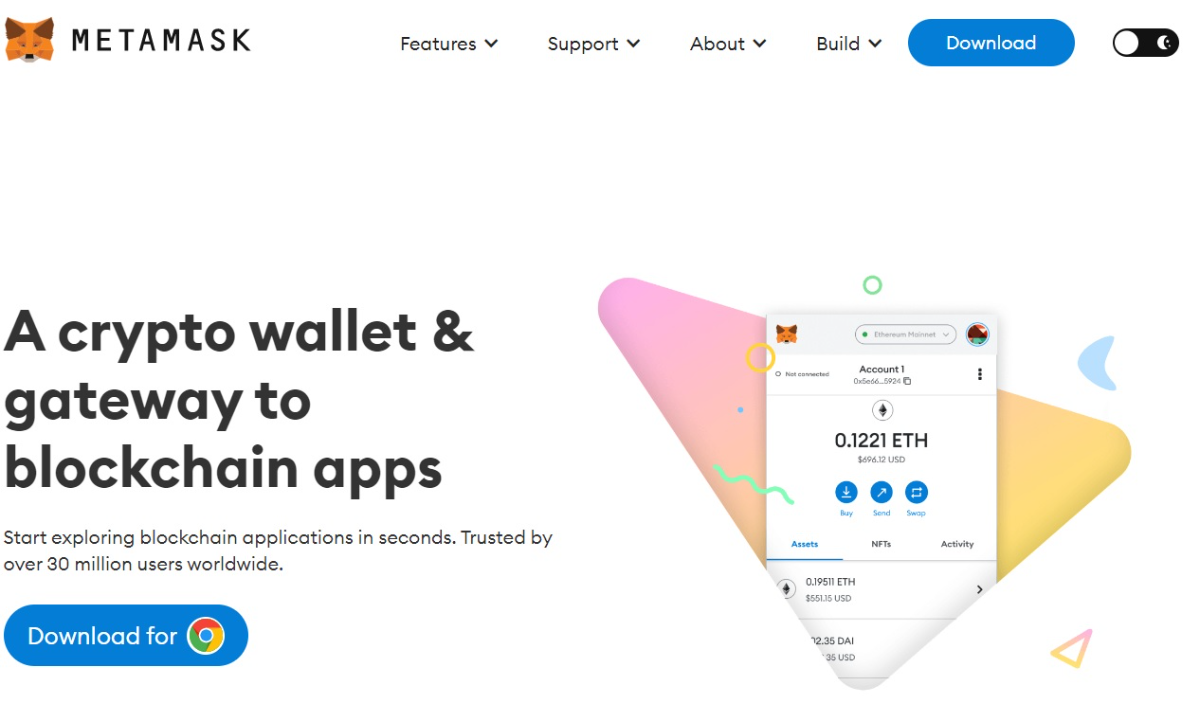 In November 2021, MetaMask surpassed the 21M Monthly Active Users milestone, making it the most popular Ethereum-based wallet. Later on, in March 2022, it raised $450M in a Series D round, valuing it at $7B.
Notable features of MetaMask:
Friendly and easy-to-use UI.
Easy to interact with other supported Dapps.
An in-app DEX aggregator that allows users to swap ERC20 tokens natively.
Data is owned by users who hold the passphrase.
What is BSC?
BNB Smart Chain (BSC), formerly Binance Smart Chain, is a blockchain platform that was launched with the aim to facilitate the growth of Decentralized Applications. It allows developers to deploy their ideas on the blockchain with Smart Contract.
The blockchain uses BNB as the native token, serving as the gas fee. In addition, BNB holders on Binance have more benefits, such as fee discounts or token launch subscriptions. Therefore, BNB is tied to the growth of Binance.
Highlights of BNB Smart Chain:
One of the top 3 blockchain platforms by Market Cap.
Founded by Changpeng Zhao, CEO of Binance.
BSC is an EVM-compatible blockchain that has a huge community of developers.
Many trends were ignited on BSC, such as GameFi, IGO, etc.
Since BSC is an EVM-compatible blockchain, it can be connected via MetaMask. Using MetaMask lets users interact with Dapps onBSC such as PancakeSwap to swap tokens.
Furthermore, Coin98 Super App also supports BSC. You can create BEP20 wallets on the Coin98 Super App.
Learn more: How to use Coin98 Wallet on Coin98 Super App
How to add BSC to Metamask in 3 steps
Metamask is available for download on mobile (iOS and Android) and web browsers such as Chrome, Firefox, Brave, and Edge.
This article will introduce how to connect Metamask to BSC (BNB Smart Chain) on the web browser, Chrome.
Step 1: Installing MetaMask Wallet
Go to MetaMask.io/download.
Click "Install MetaMask for Chome" to download the extension.
Install MetaMask to Chrome and create a MetaMask wallet.
Log in to your MetaMask wallet.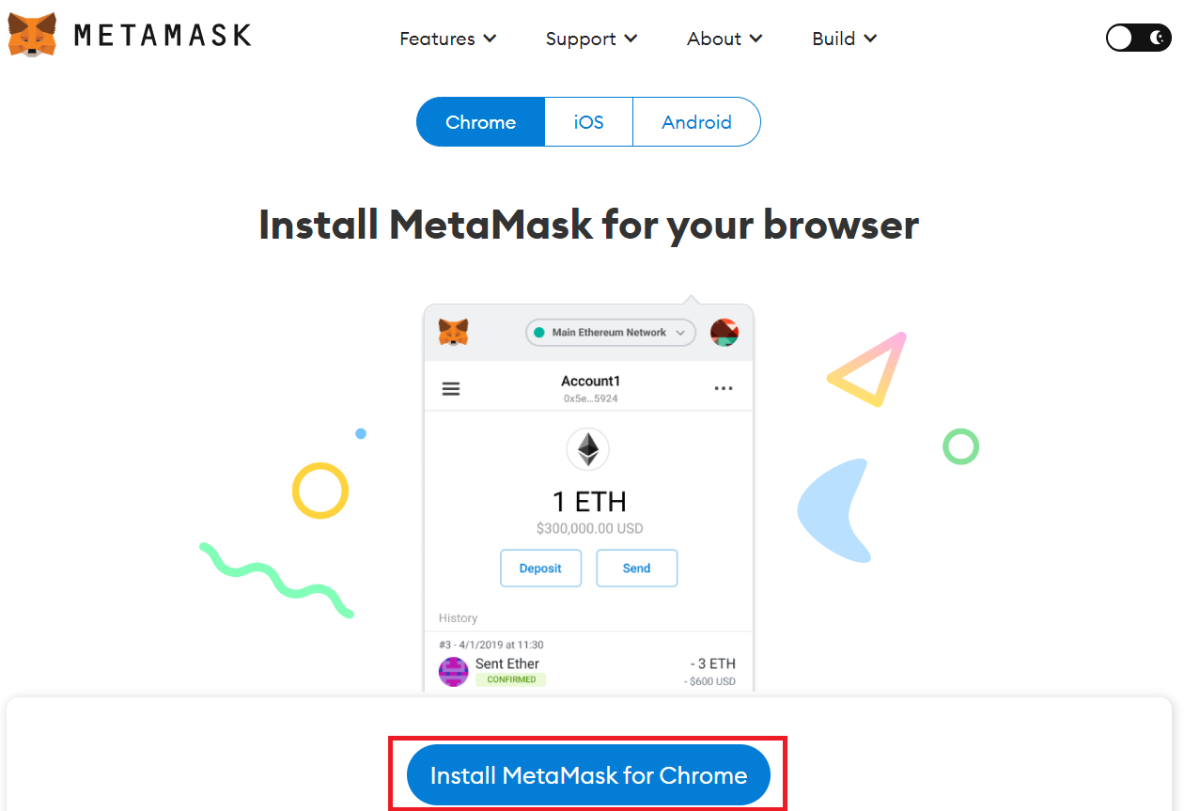 Your MetaMask will look like this if you successfully log in to MetaMask.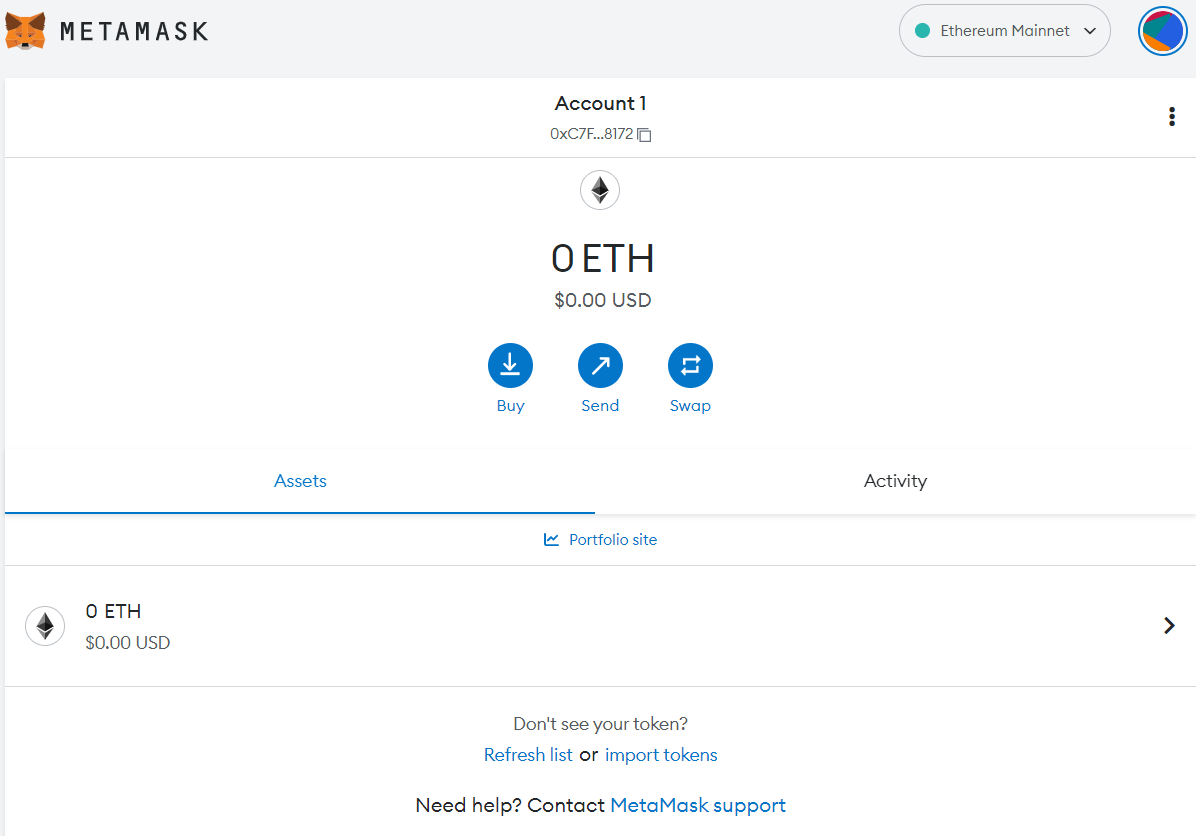 Step 2: Connecting Metamask to BSC
After logging in, MetaMask will set the Ethereum blockchain as default. To switch to using BSC on MetaMask, we will walk you through the following steps.
At the top left corner of the MetaMask interface, select "Ethereum Mainnet" to drop down the menu, then click the "Add Network" button.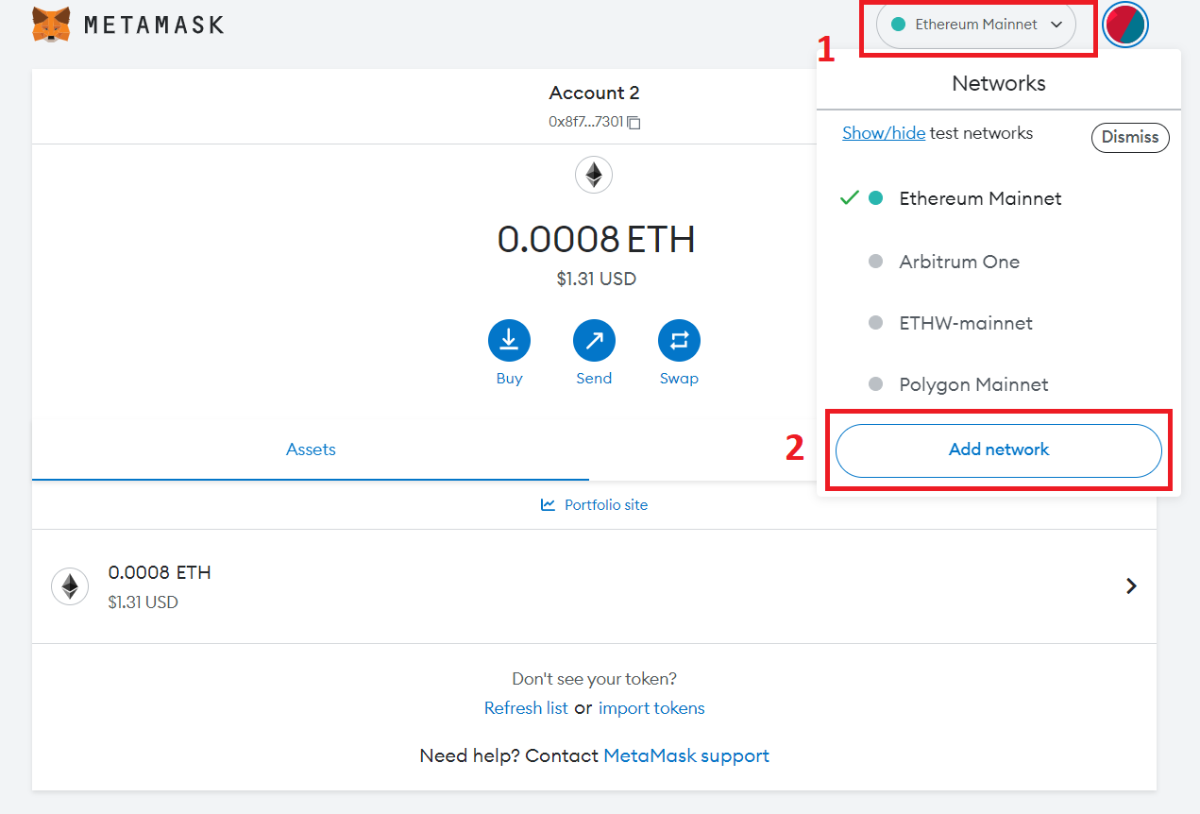 The web will direct you to the Settings page, where you can add a blockchain network. We will manually add the BSC mainnet to MetaMask as we first use MetaMask. We just switch BSC to other blockchains at hand in later usage.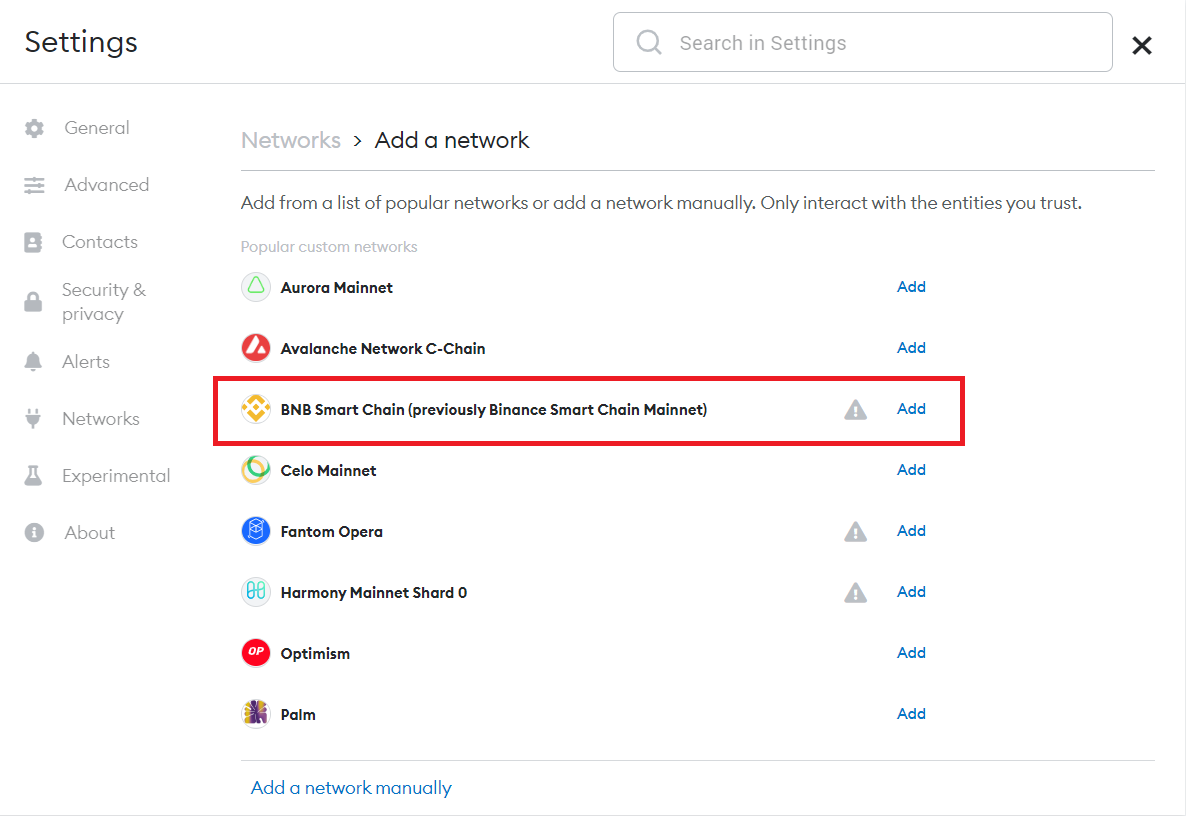 BSC Mainnet:
Network Name: BSC
New RPC URL: https://bsc-dataseed.binance.org/
Chain ID: 56
Symbol: BNB
Block Explorer URL: https://bscscan.com
Fill in the network detail and click Save.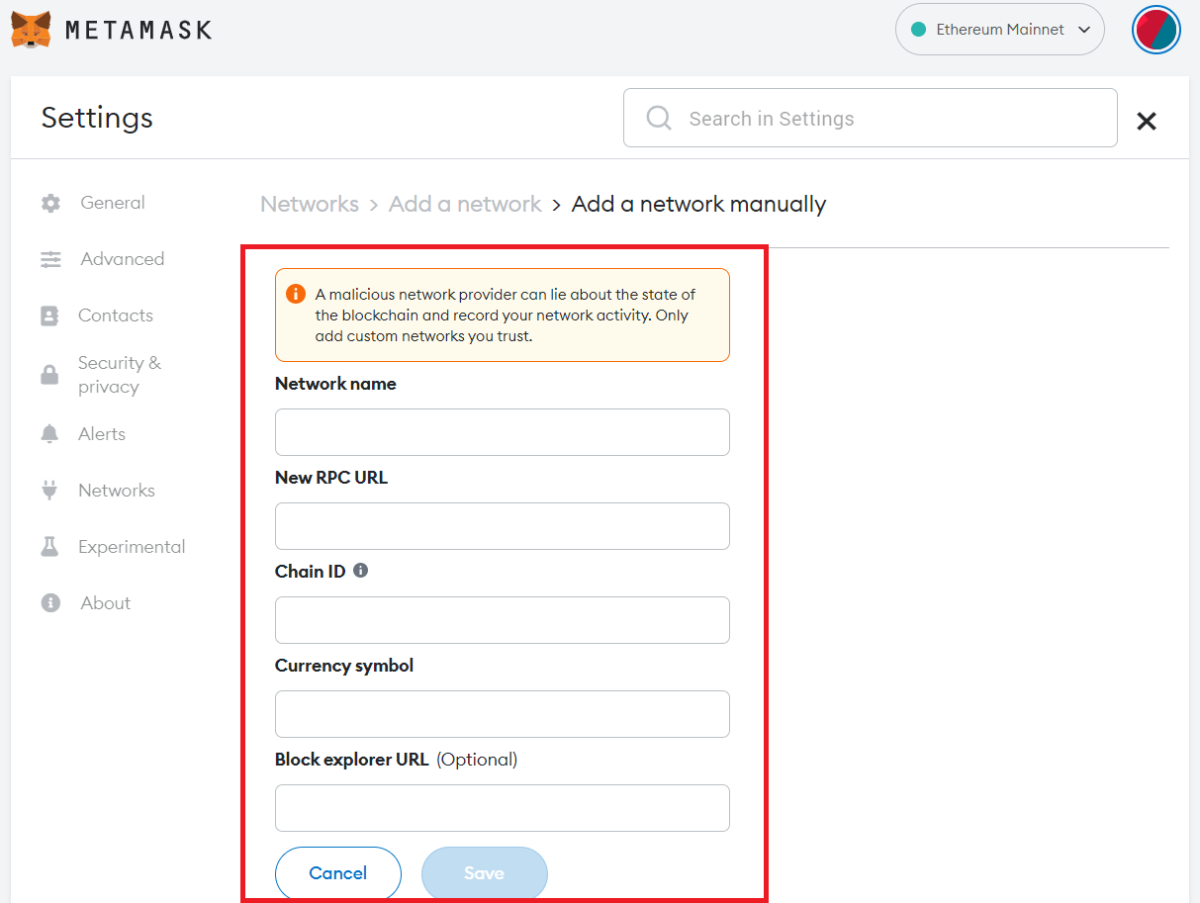 You successfully connect BSC to MetaMask. Import your BEP20 wallet, and now your BEP20 tokens are displayed.
Step 3: Switching between blockchains on MetaMask
In the previous steps, you are introduced to connecting BSC to MetaMask. If you prefer to connect to other blockchains, click "BNB Chain" as in the picture below to select your network.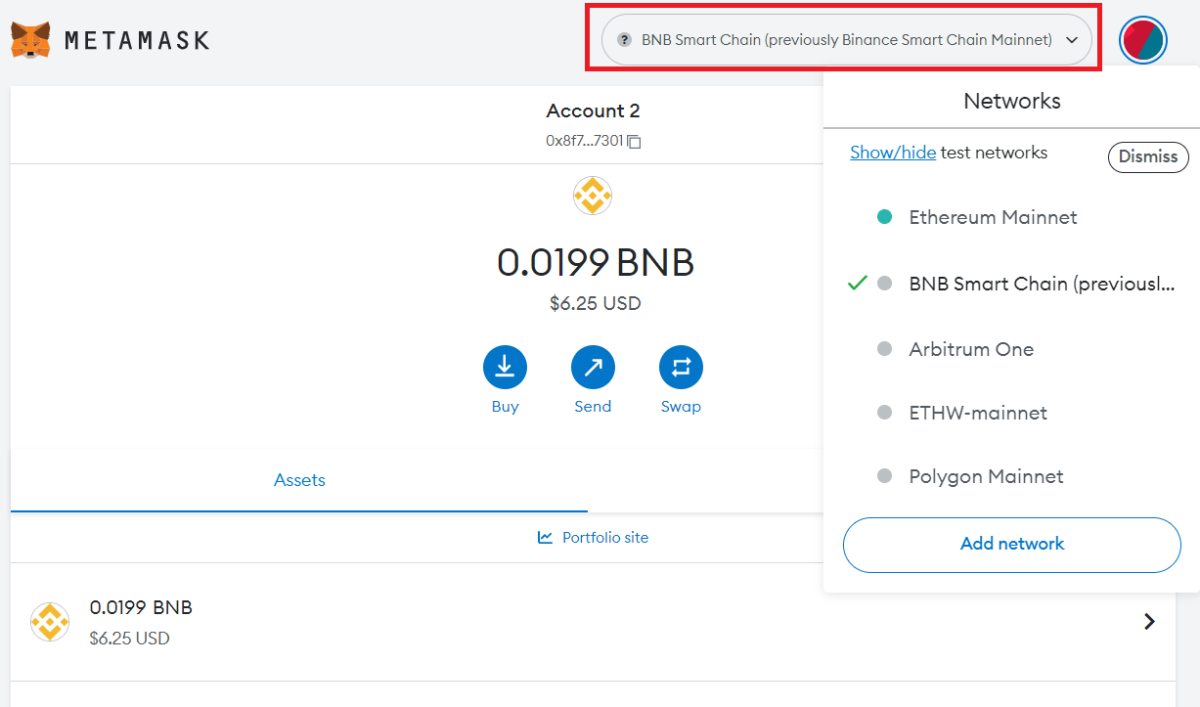 Conclusion
To reiterate, MetaMask and BSC have been growing at warp speed for the past few years. Without a doubt, users will be much more convenient when connecting BSC to MetaMask.