What is OpenSwap?
OpenSwap is a DEX Aggregator, providing innovative swapping and liquidity solutions to enable DeFi users to swap and provide liquidity in the multi-chain landscape. This model is similar to 1Inch Exchange, Paraswap...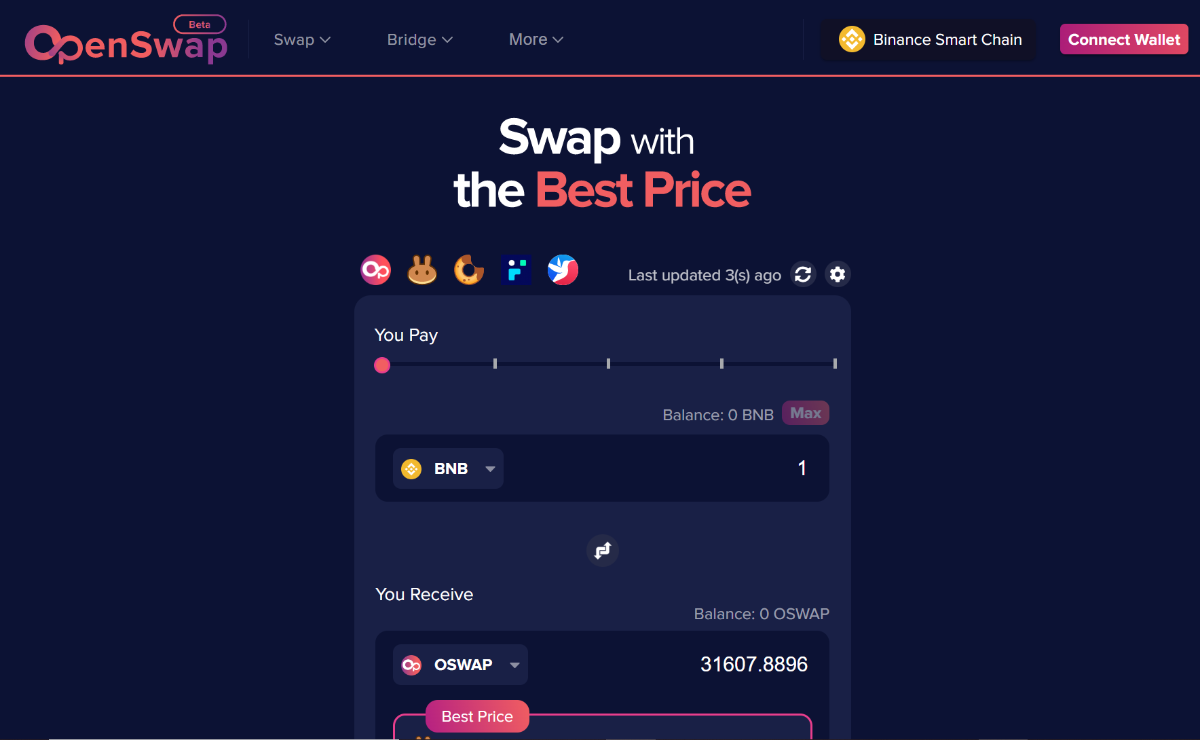 How does OpenSwap work?
Liquidity Queues: Depending on the user's intention, OpenSwap divides the transaction into 4 different routes (Spot Price Queue, Restricted Group Queues, Pegged Queues, Offer Price Queues). Users will then be able to trade for good prices and at low cost, and liquidity providers will better use their available liquidity.
Hybrid Smart Router: OpenSwap's Hybrid Smart Router is a set of smart contracts that identify potential swap paths leveraging both AMM pools and liquidity queue smart contracts.
Openswap Interchain Protocol: Openswap Interchain Protocol is a solution that offers more efficient cross-chain swapping of chain-native assets through the usage of single asset vaults and a basket of decentralized mechanisms. With the incorporation of other OpenSwap technologies, this mechanism will form a capital efficient end-to-end cross-chain swapping solution.
OSWAP Token Use Cases
OSWAP can be used for:
Providing liquidity to share rewards from transaction fees.
Staking to become Node Operator for Cross-chain Bridge.
Yield Farming with OSWAP liquidity pairs.
Participating in system change proposals and vote on them.
Accessing priority membership features.
Team, Investors, and Partners
Team
The founder of OpenSwap is Bruce Chau, who has a lot of technological experience and has formerly worked for three years at Microsoft.
Investors
Openswap received investments from: Coin98 Ventures, NGC Ventures, BR Capital, All In Ventures, Double Peak,…
Partners
Impossible Finance is OpenSwap's Launchpad partner.
CertiK is currently an Audit Smart Contract partner for OpenSwap.
Roadmap and Updates
Here is OpenSwap's roadmap: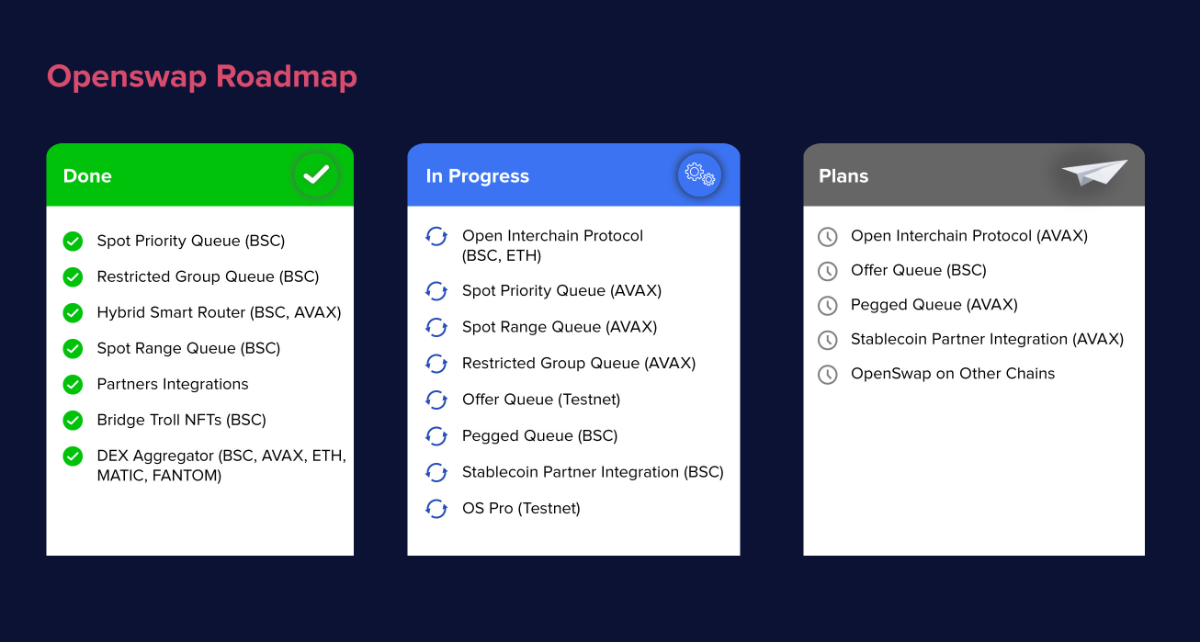 What is OSWAP Token?
OSWAP token is the governance token of the OpenSwap ecosystem. The main features of OSWAP tokens are:
Encourage usage of the OpenSwap system.
Encourage users to join in governance
Enable a wide range of platform privileges pertaining to foundational technologies and ecosystem offerings.
Detailed information about the OSWAP Token
OSWAP's Key Metrics
Token Name: OpenSwap.
Ticker: OSWAP.
Blockchain: Ethereum, BNB Smart Chain, Avalanche.
Token Standard: ERC-20, ARC-20, BEP-20.
Contract: 0xb32aC3C79A94aC1eb258f3C830bBDbc676483c93
Token Type: Utility & Governance.
Total Supply: 1,000,000,000 OSWAP.
Circulating Supply: 21,118,055
OSWAP Token Allocation
Community: 60% - 600,000,000 OSWAP.
Team: 13% - 130,000,000 OSWAP.
Reserve: 9% - 90,000,000 OSWAP.
Dev Fund: 8% - 80,000,000 OSWAP.
Advisors: 3.5% - 35,000,000 OSWAP.
Investors: 3.5% - 35,000,000 OSWAP.
Locked Governance: 2% - 20,000,000 OSWAP.
IDO: 1% - 10,000,000 OSWAP.
OSWAP Token Sale
From August 26 to 30, 2021, users can stake IDIA on Impossible Finance to get OSWAP token.
OSWAP Token Release Schedule
Below is the total number of OSWAP tokens that will be distributed according to the plan:
Community: Locked for at least 7 days after IDO, 90–95% will be opened within 6–24 months.
Team: Locked for at least 6 months and gradually unlocked over 48 months.
Reserve: Locked for at least 6 months and gradually unlocked over 48 months.
Dev Fund: Locked for at least 6 months and gradually unlocked over 48 months.
Advisors: Locked for at least 7 days after IDO, 90–95% will be opened within 6–24 months.
Investors: Locked for at least 7 days after IDO, 90–95% will be opened within 6–24 months.
Locked Governance: Locked in Governance Contract over 12 month.
IDO: Not locked.
How to get OSWAP Token
Users can get OSWAP token on supported exchanges like Baryon Network, Impossible Finance. Also, users can stake or farm to earn more OSWAP token rewards on OpenSwap.
How to store OSWAP Tokens
You can store OSWAP tokens on the Coin98 Super App with these steps:
Step 1: Open the Coin98 Super App & click Receive on the home screen.
Step 2: Search OSWAP Token.
Step 3: Click on the correct result, copy the wallet address, and send OSWAP to this address.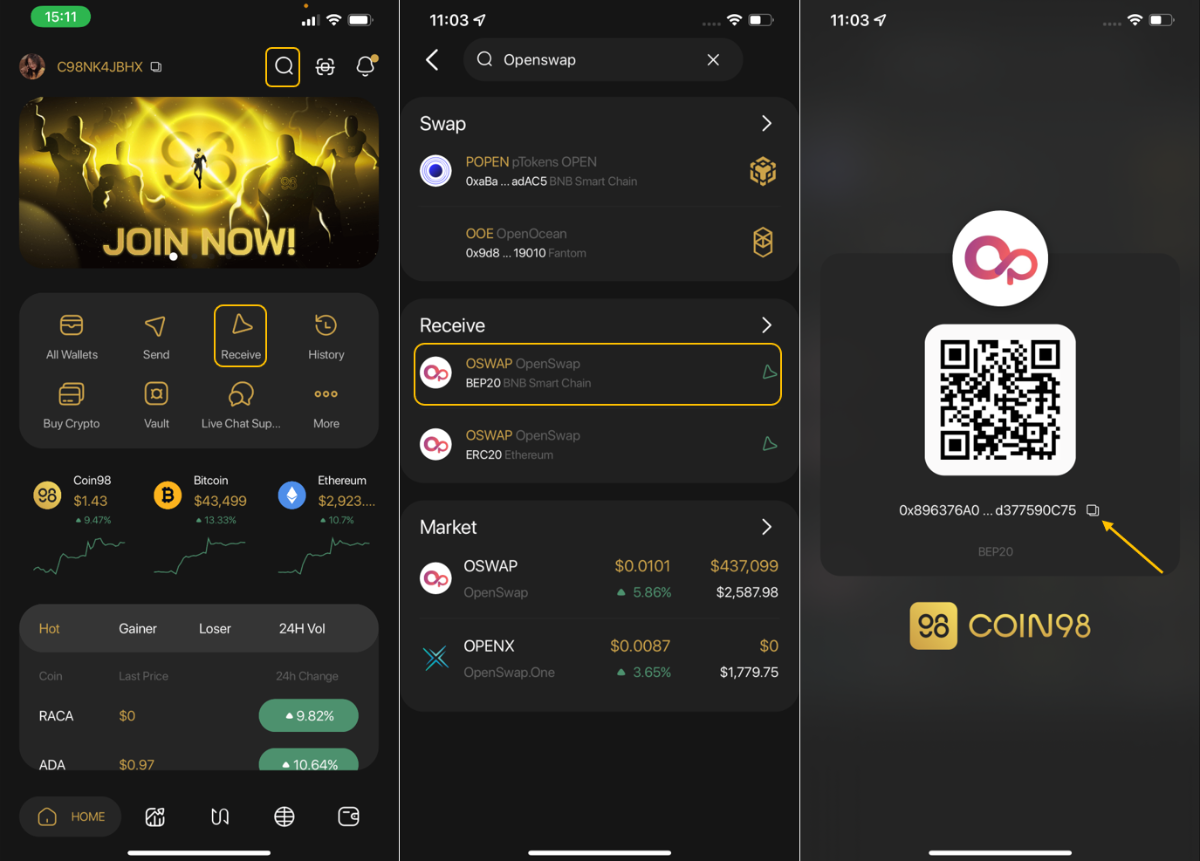 How to buy OSWAP token
You can buy OSWAP on DEXs like OpenSwap, Baryon Network, Impossible Finance.
Learn more: How to use Baryon Network
Similar Projects
OpenOcean: a DEX aggregator that aggregates liquidity from many DEXs and CEXs.
1Inch Exchange: a DEX Aggregator Protocol using a smart routing technology that enable users to trade with the lowest slippage and best market pricing.
Paraswap: a protocol that integrated with other DeFi providers, acting as a bridge between user interfaces. It combines liquidity from DEXs to provide end users the most efficient possible experience.
Learn more: What is Harmony (ONE)? All about ONE Token