What is Udder Chaos?
Udder Chaos is a superior collectable art and innovative utility. By developing a user-based NFT review website, Udder Chaos is giving clarity to the DYOR process. Alpha Audits' website will offer a "review to earn" system where users will receive bonuses for posting truthful reviews!
Additionally, Udder Chaos runs a Solana validator that provides holders continuously rising passive income. Sustainability and openness have been taken into consideration when designing this project.

How does Udder Chaos work?
Udder Chaos will be operating a bare metal Solana validator. Validators are what keep the Solana blockchain running. They receive rewards in SOL for validating transactions and providing consensus. Each validator must stake SOL to earn SOL rewards.
Alpha Audits, similar to Google Reviews, Yelp, and Rotten Tomatoes. Users will be able to review projects for additional rewards. For leaving quality reviews and providing helpful feedback, users can rank up and receive a higher % of staking rewards.
The primary source of revenue from Alpha Audits will be advertisements. There will be a few places for non-intrusive advertisements, as well as a few promoted slots where projects can pay to have their reviews featured. Revenue generated will be split among staked holders.
What makes Udder Chaos different?
Two of the biggest problems Solana currently faces are network stability and rugs/scams in NFTs. Udder Chaos has set goals to solve both of these issues using a sustainable business model that will operate for years to come.
Udder Chaos will be operating a bare metal Solana validator. Validators are what keep the Solana blockchain running. By reinvesting in the validator, the amount holders earn will be continually rising via a positive feedback loop.
Also, Udder Chaos has developed a review-to-earn system called Alpha Audits for users to post reviews on. Sustainability and openness have been taken into consideration when designing this project.
Detailed information about MILK Token
MILK Token Metrics
Token Name: Udder Chaos
Ticker: MILK
Blockchain: Solana
Token Standard: SPL
Contract: MLKmUCaj1dpBY881aFsrBwR9RUMoKic8SWT3u1q5Nkj
Token Type: Utility, NFT
Total Supply: Updating…
Circulating Supply: 47,099,342.82
MILK Token Allocation
Updating…
Token Sale
Updating…
Token Release Schedule
Updating…
Token Use Case
MILK started with no value but the team is using 25% of secondary sales and 25% of validator earnings to increase the value of MILK. They are investing this capital into utilities that provide a purpose to MILK. The more people want it, the more value it will have.
How to get Udder Chaos and MILK token
How to own Udder Chaos NFT
Udder Chaos is an NFT, not a utility token, to own Udder Chaos, you can buy it in Marketplaces: Magic Eden, Alpha Art, Solanart or Opensea.
How to own MILK tokens
All holders are able to stake their Udder Chaos NFT for 20 MILK per day. Rarity and amount of NFTs held have no effect on the rewards.
How to store Udder Chaos and MILK Token
Udder Chaos are NFTs, so you can store them at NFT Marketplaces where you buy them.
In contrast, MILK token is an SPL token, you can store it on Coin98 Wallet with the following simple operation:
Step 1: At the main interface, select Receive.
Step 2: Enter MILK in the search box.
Step 3: Copy the MILK wallet address and send MILK tokens to this address.
How to buy Udder Chaos and MILK Token
You can exchange and trade Udder Chaos items through NFT Marketplaces such as Magic Eden, Alpha Art, Solanart and Opensea.
If you are interested in the MILK token, you can refer to it on these 2 exchanges: Raydium and Serum. MILK Token is currently trading as MILK-USDC pairs only.
Learn more: How to use OpenSea
Roadmap and Update
Udder Chaos's roadmap including 6 phases:
3 Minting phases: Before, During and After.
1 Preparation phase.
1 Deployment phase.
1 Growth phase.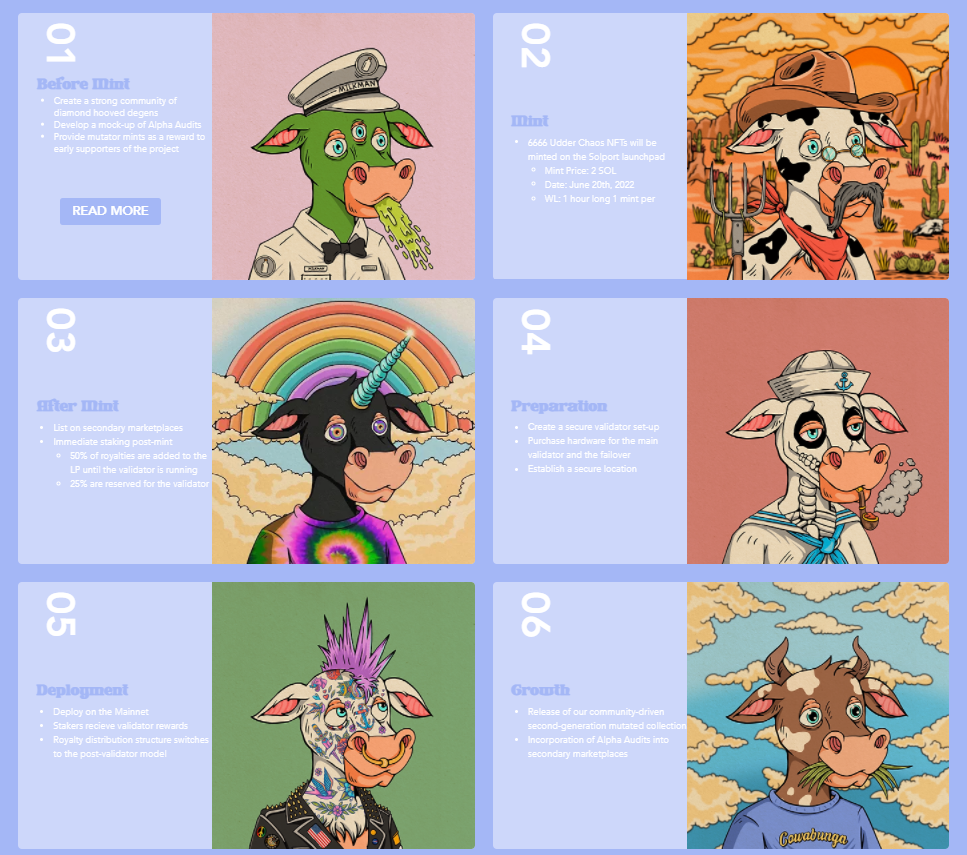 Team, Investors, and Partners
Udder Chaos has an accountable and transparent team. Jake and Yaz are the 10-year together-couple that founded this project.
Jake has a background in game development and a B.Sc. in game development, he has worked under some contracts for some notable companies such as Samsung, BBC Studios, Epic Games, Gen G e-sports, and Manticore Games.
Yaz, being equal parts left and right-brained, completed an undergrad and masters in Bio-Medical Science before entering the NFT space. Through her experience with NFT community management, she has developed an appreciation for the importance of community to a successful project.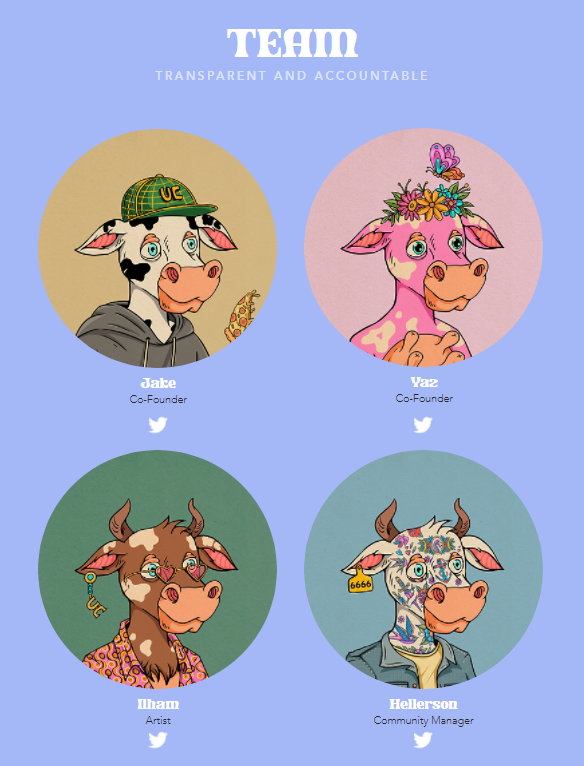 Similar Projects
DeGods (DUST)
DeGods is a collection that helps combat the rising deflation of the NFT. Thinking in a fictional way, DeGods wants to compare itself to the "god" of Metaverse to bring the best values ​​​​to people, by minimizing degenerate things, bad things in the market, etc. when we join the NFT space.
Learn more: All about DeGods (DUST)
Blocksmith (FORGE)
Blocksmith Labs is a team of experienced engineers aiming to solve real problems on Solana, whilst providing utility to their holders. Holders will be able to stake our NFTs to earn FORGE tokens. FORGE will bring various utilities throughout the future of this project.

Is Udder Chaos a good investment?
Udder Chaos has all the utility you could ask for, fun art, and an active team that cares about their community. You can't go wrong with this project. Besides, holding Udder Chaos NFTs gains you many other benefits. The team is working on ways to increase the value of MILK and as that increases, more people will want to hold Udder Chaos NFTs.
Conclusion
Udder Chaos is bringing clarity to the chaos that exists in the NFT space via the Alpha Audits platform, an NFT review site designed to improve project awareness and transparency.
Learn more: What is Wirex Token (WXT)? All about WXT Token