Overview about Saros & Project Galaxy
About Saros
Saros Finance is the DeFi platform consisting of multiple products, namely SarosSwap (AMM), SarosFarm (Pool), and SarosStake (Stake), with SarosSwap being the core element. Built by Coin98 Labs, Saros Finance aims to adopt millions of users to DeFi.
About Project Galaxy
Project Galaxy is building a protocol that powers on-chain credentials with plug-and-play NFT modules. The permissionless infrastructure allows everyone to create, distribute, and gamify NFTs with customized on-chain data.
Developers can build their own loyalty programs, and individuals can issue and claim the NFTs backed by their on-chain achievements.
"Earn Exclusive Sarosism NFT" Event Details
During the campaign, users who have completed the required tasks will be eligible to mint Sarosism NFTs, which opens up a whole new world of content and advanced features on Saros in the next chapters!
Event time: From 20:30 July 20th to 23:59 August 3 (UTC+7).
Minting time: 20:30 August 4 (UTC+7) on the Project Galaxy Platform.
Event Reward: Chance to get NFTs.
Prepare to join the event
Download and install the Coin98 Extension Wallet
You can access chrome.coin98.com to install the Coin98 Extension Wallet.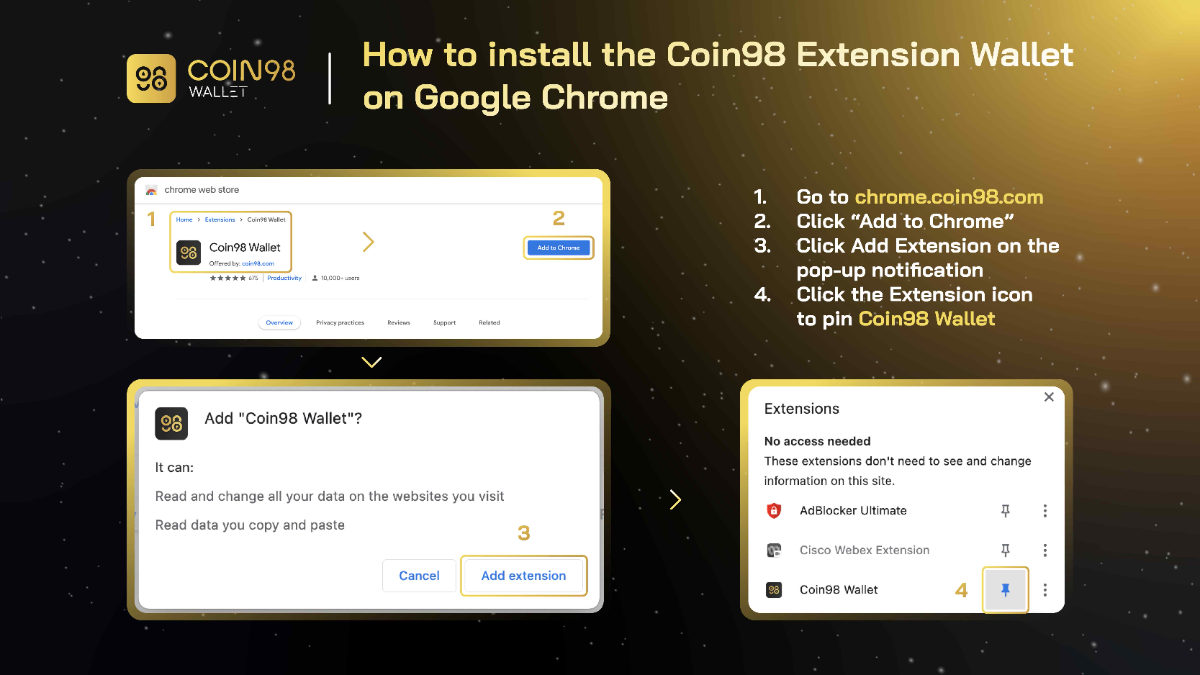 For instructions on installing and using the Coin98 Extension Wallet, you can refer to this guide.
Create the Solana (SOL & SPL tokens)
After installing the Coin98 Extension Wallet, you can refer to the guidelines below to create a Solana (SOL, SPL) wallet, or restore Solana wallets from other platforms to Coin98.
How to create and restore a Multi-chain Wallet here (recommended).
How to create and restore a Solana wallet here.
If you are already a Coin98 user, you can refresh or import multi-chain wallets to update your Solana wallet (SOL, SPL) as well as other new wallets available in this version!
Get your wallet address on the Coin98 Extension Wallet
Step 1: Open the Coin98 Extension Wallet and click the hamburger icon in the left corner of the main interface.
Step 2: Select the wallet you need to get the address and choose Copy Address.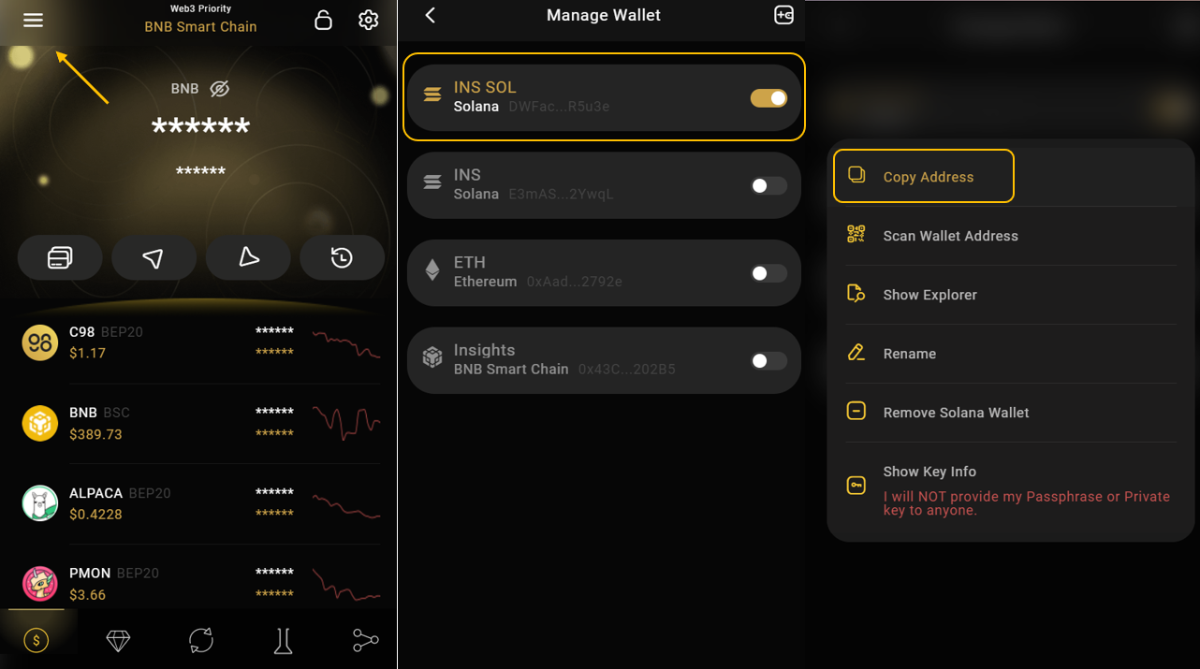 How to join the event
Finish all the tasks on Gleam and get the chance to mint the first Sarosism NFTs. The tasks are extremely simple:
Follow Saros Finance's Twitter
Retweet the event announcement & tag 3 friends with #Sarosism #SarosNFTs hashtags
Subscribe to the Saros Finance Telegram channel
Submit your Solana wallet address.
Invite at least 1 friend to join the event. To count as an invitation, your friend must complete at least one task.
Tag 3 friends with #Sarosism #SarosNFTs hashtags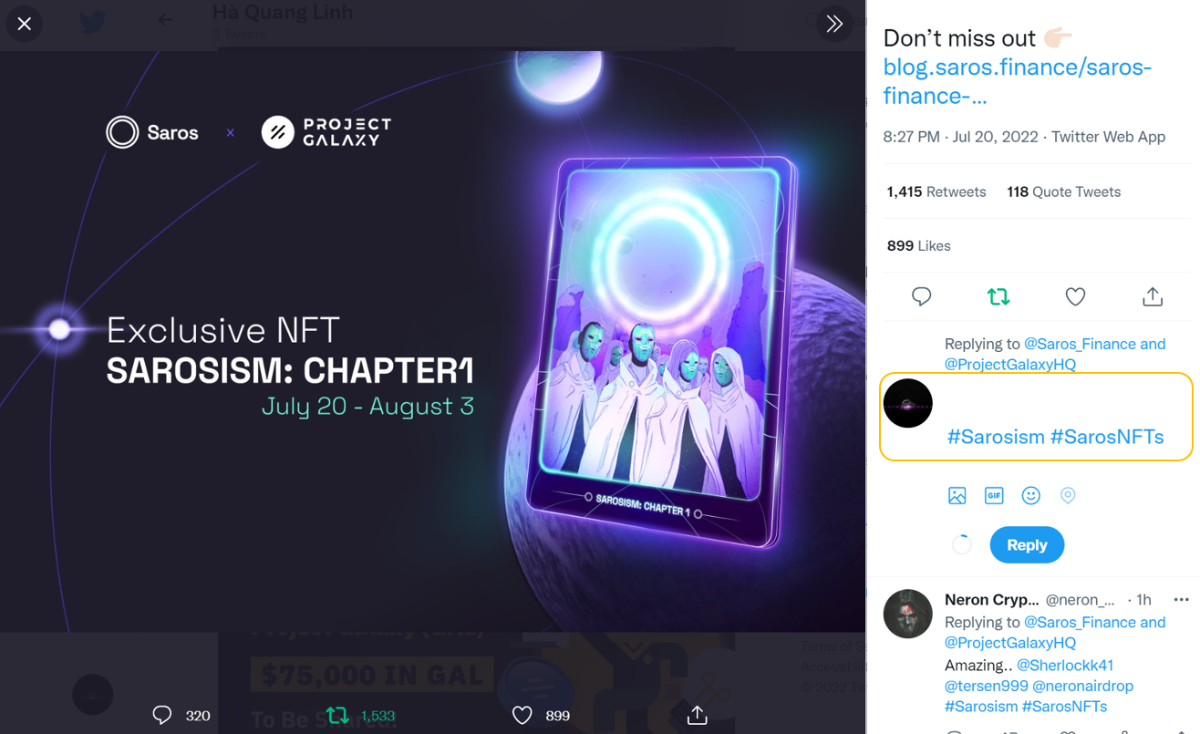 Note: The tasks can be completed in different orders. Please complete all the tasks in time for the Sarosism NFT minting campaign.
How to mint NFT
Step 1: Please click here to visit Saros Finance's space on the Project Galaxy Campaign page.
Step 2: Click Connect Wallet → MetaMask to connect your wallet to Project Galaxy. Please connect to the Solana wallet to join this event.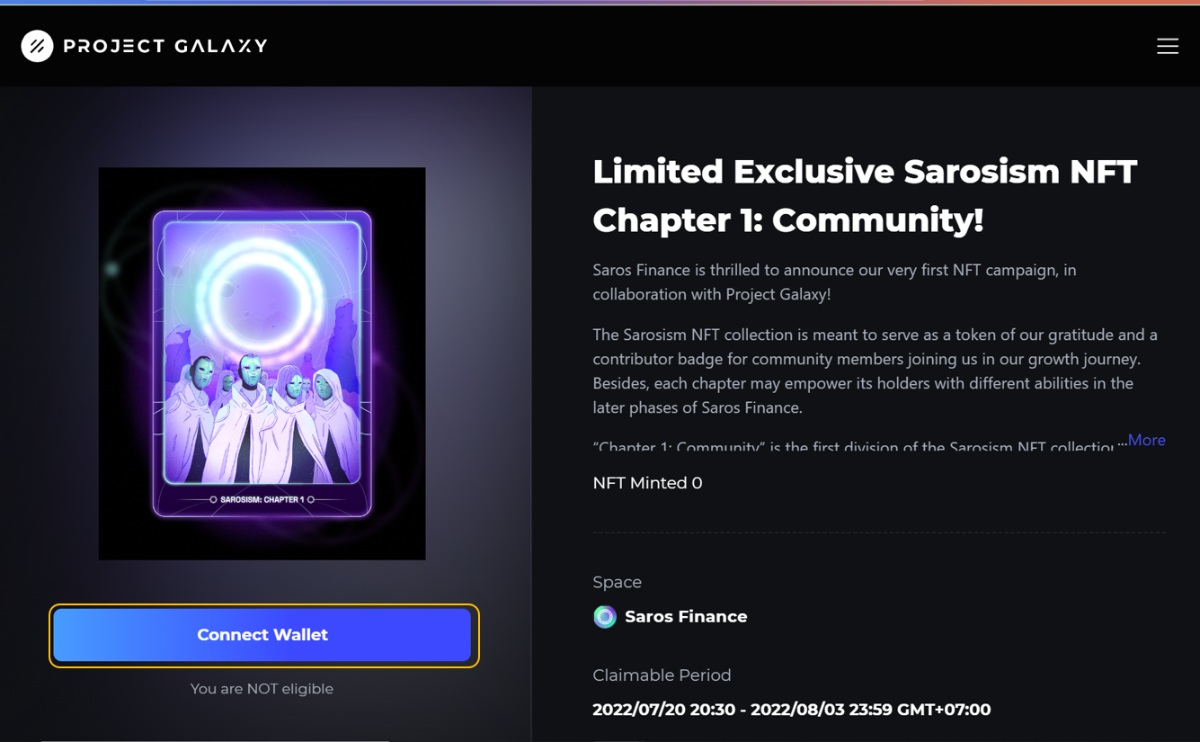 Step 3: Click Claim to mint the NFT.
Note: Please use the address you provided in Gleam and note that you will have to pay the Solana network minting fee, which should be only a fraction of a cent (Averagely 0.00001 SOL)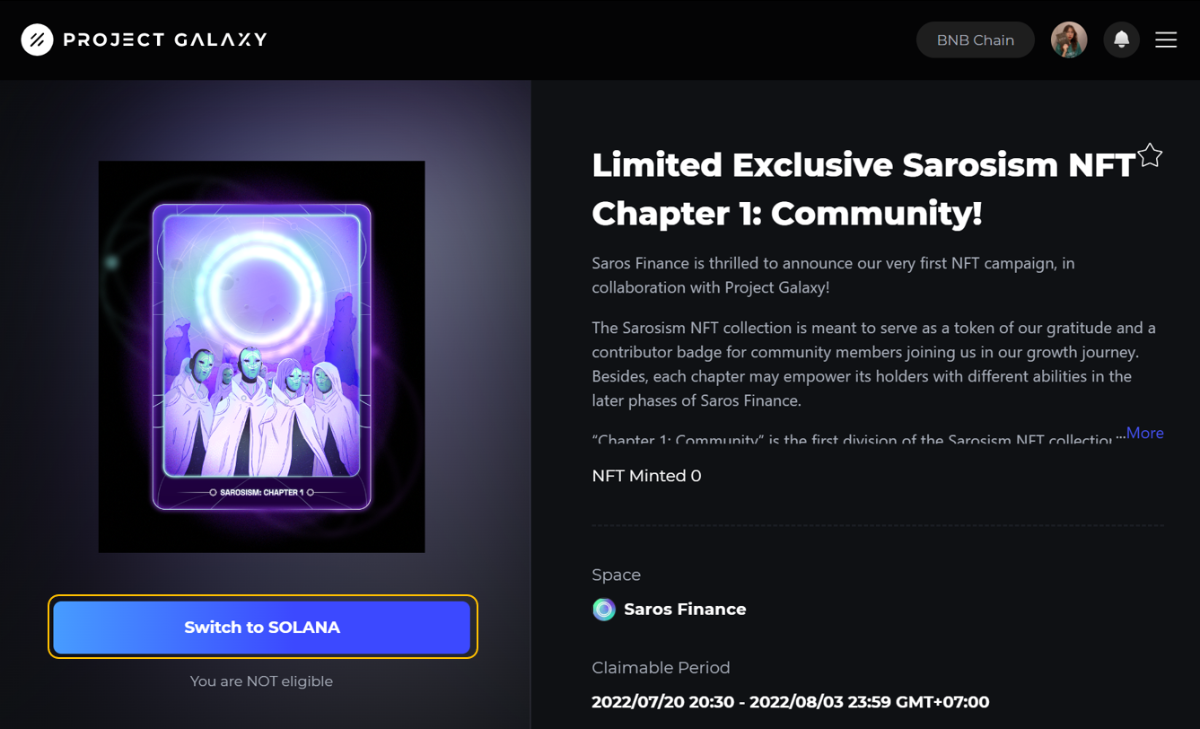 Terms & Conditions
Saros reserves the right to cancel or amend any activity rules at its sole discretion.
Saros reserves the right of final interpretation of this activity.
Summary
Hopefully, the information in this article will be helpful participating in this event. If you have any questions, please do not hesitate to leave a comment below to get assisted.