Funding rounds announced this week totaled more than $1.5B, doubling that of week 28. This was the brightest week in the fundraising market of 2022. Lightspeed Ventures, Multicoin Capital, Saber Labs, all three characters have announced a new fund, the largest value is $500M from Lightspeed Ventures.
Besides the half-billion dollar funding rounds, gaming projects like ScoreFam, Monkey League all earned a large amount of money in very early investment rounds. In particular, the soccer game Monkey League has successfully attracted the attention of the gaming giant Square Enix.
Key insights that could be taken from this week's fundraising:
VCs are raising large amounts of money to keep investing in this "bear" market.
Both VCs that raised funds this week had the average fundraising size of H1 2022 (about $500M).
The number of deals in GameFi and NFT still remains the highest among all sectors.
The infrastructure & Layer-1 categories attracted lots of money from big VCs.
Overview of investments & funding activities week 28
In the TOP 10 most famous investments & sponsorship deals in the past week, we have:
3 entertainment projects: ScoreFam, Monkey League, Zebedee
2 Investment funds: Lightspeed Ventures, Multicoin Capital
2 exchanges: Saber Labs, Hashflow
1 infrastructure project: Mysten Labs
1 blockchain/L2: 5ire
1 security project: Halborn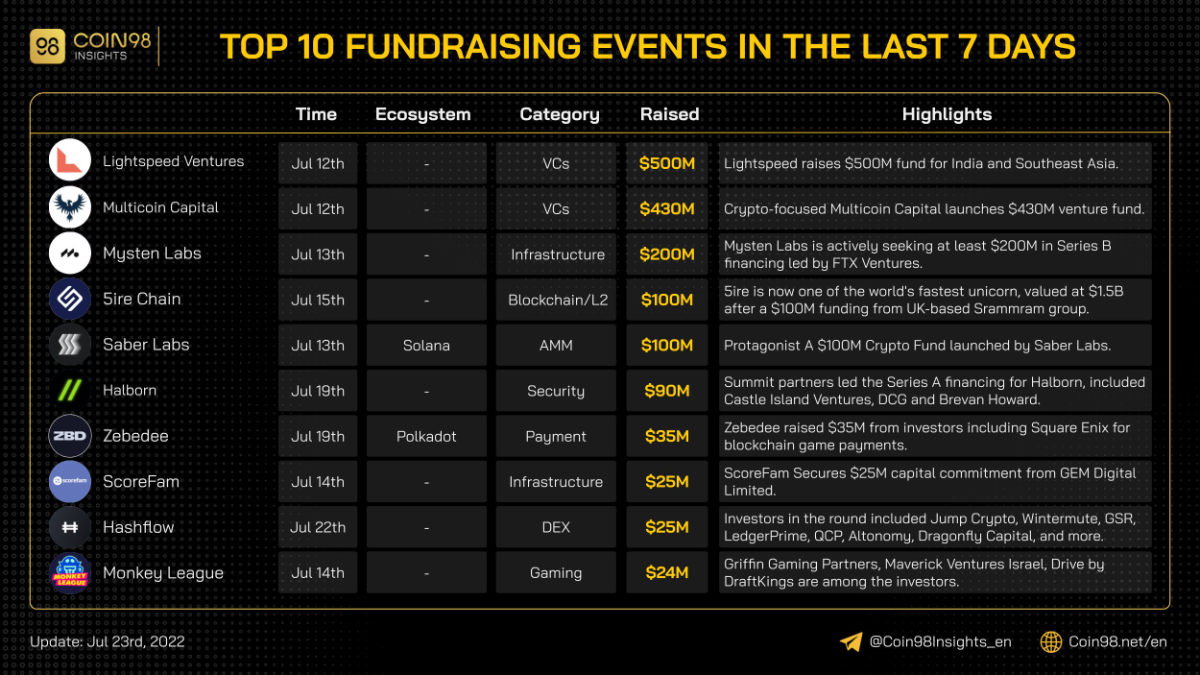 Large enterprises and companies
Lightspeed Ventures raised $500M
What is Lightspeed Ventures?
Lightspeed Ventures is a global venture capital fund focused on multi-stage investments in the enterprise, consumer and healthcare technology sectors. Originally a Silicon Valley venture capital fund with famous deals such as Snapchat, Fusion-io, Rubrik.io, etc.
Lightspeed is also very active in investing in the cryptocurrency market. Participated in Blockchain.com, FTX, CertiK and Ripple funding rounds from early stages.
Famous Venture Capitals participating in the funding round:
Lightspeed Ventures does not disclose the identities of the investors in this round.
Goals after the funding round: The capital raised this time has brought Lightspeed's total funding to $7B.
As the average size of fundraising for VCs in H1 2022 is $500M, Lightspeed Ventures raised a decent amount of money. However, the main difference between this fundraising round and the others in 2022 is that this $500M will be reserved for projects in India and Southeast Asia markets.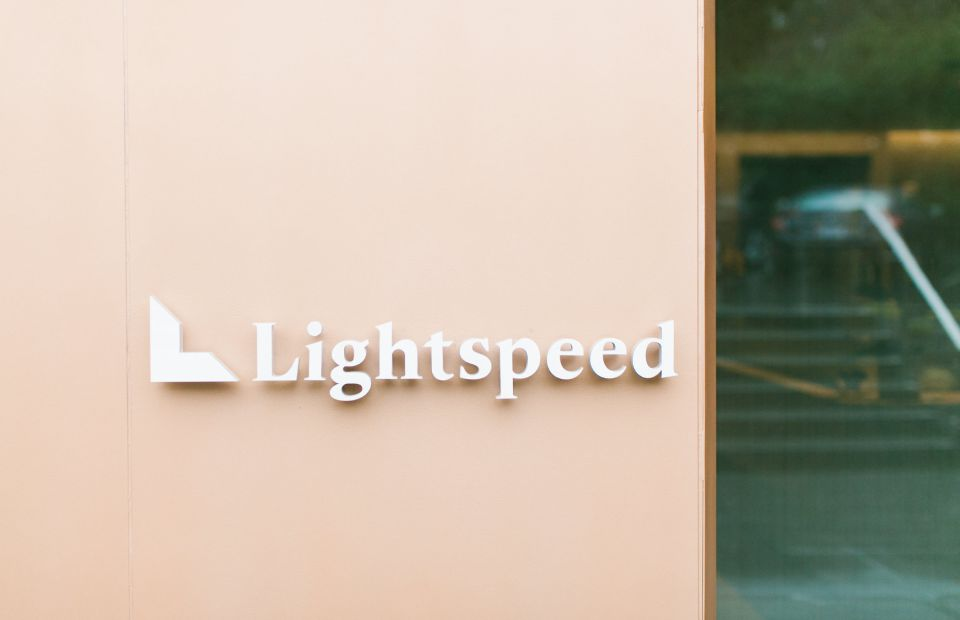 Multicoin Capital announced the new $430M fund
What is Multicoin Capital?
Multicoin Capital is an investment fund based on "investment thesis" that specializes in investing in the crypto market through investment in project tokens and shares of blockchain companies. They are a hedge fund and venture capital fund, founded in May 2017.
Purpose of the new fund: This is the largest fund package that Multicoin Capital has ever established. The capital will be divided into several rounds of early-stage investment, with volumes ranging from $500 K to $100M per round, depending on the potential of that project.
The CEO of Multicoin Capital - Samani - said that even in this "bear" market, Multicoin is still actively seeking to invest in potential projects as they invest across the market cycle, and investing in the crypto market in a long time horizon.
Projects with Tokens
Projects already have Tokens and still receive additional investments proves that they have new products, new segments, and need more money to develop. This news will greatly affect the nature and price of the tokens, so please refer to it for more investment perspectives.
Saber Labs (SBR) announced a $100M "Protagonist" Fund
What is Saber Labs?
Saber is an AMM DEX platform dedicated to stablecoins of the Solana ecosystem. In the past week, Saber Labs has announced a brand new Investment Fund called Protagonist. Protagonist was founded by the two founders of Saber Labs, Dylan Macalino and Ian Macalino..
Purpose of establishing Protagonist: Protagonist will be an investment fund dedicated to Web3 projects. Besides investing capital for projects at an early stage, Protagonist will also accompany on the development journey of the founders from that project.

ScoreFam (SFT) raised $25M
What is ScoreFam?
ScoreFam is a platform for sports lovers integrated with blockchain technology. Users will use ScoreFam's SFT tokens to predict the scores of football matches and receive rewards. ScoreFam has a safety mechanism for users, if the prediction is wrong, they can still get 20% back of the SFT set, otherwise 100% if the prediction is correct.
Famous Venture Capitals participating in the funding round:
GEM Global Yield Fund LLC SCS: A large investment fund in the market, with huge capital commitments for projects in all fields, finance, economics, technology, ..
Goals after the funding round: The capital will help ScoreFam implement its upcoming plans, add new features and improve the user interface.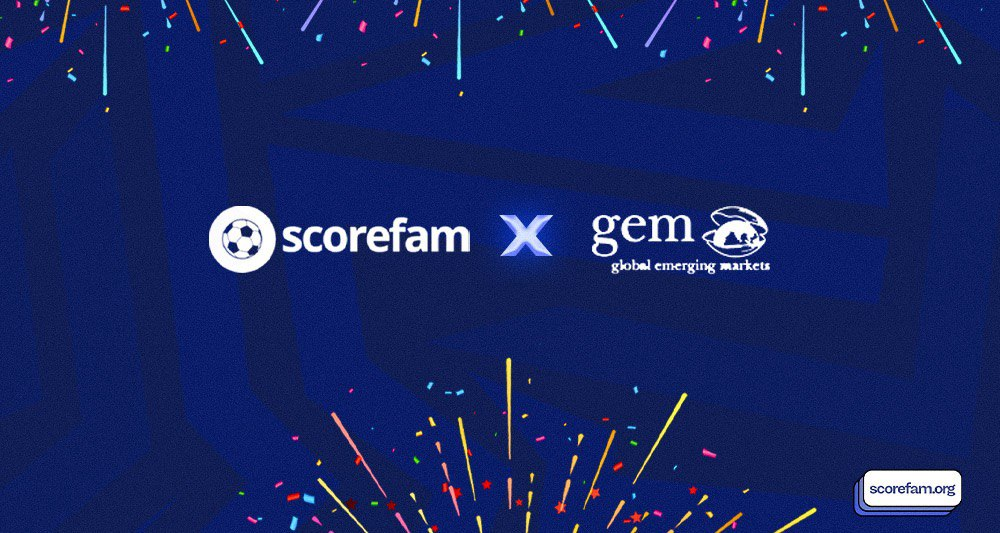 Hashflow (HFT) raised $25M in Series A
What is Hashflow?
Hashflow is a protocol that allows users to trade multiple tokens. This is also an unlimited cross-chain bridge with the advantages of fast processing speed, MEV-resistance and extremely low gas fee.
Hashflow brings a new standard in trading on DeFi, many outstanding advantages such as low fee, no slippage, MEV solution… Last week, Hashflow successfully raised $25M at a valuation of $400M.
Famous Venture Capitals participating in the funding round:
Jump Crypto: Jump Trading Group's crypto-market investment arm. Jump Trading Group is a long-standing investment company, with more than 700 employees in many territories such as the US, China, UK, Singapore, ..
Electric Capital: Founded in 2018 by Spencer and Avichal Garg. This fund was established as a Venture Capital Fund, specializing in investing in projects in areas such as blockchain, fintech at the early stages.
Goals after the funding round: The amount of capital will be used to expand products, human resources and processes for the next structured launch of Hashflow.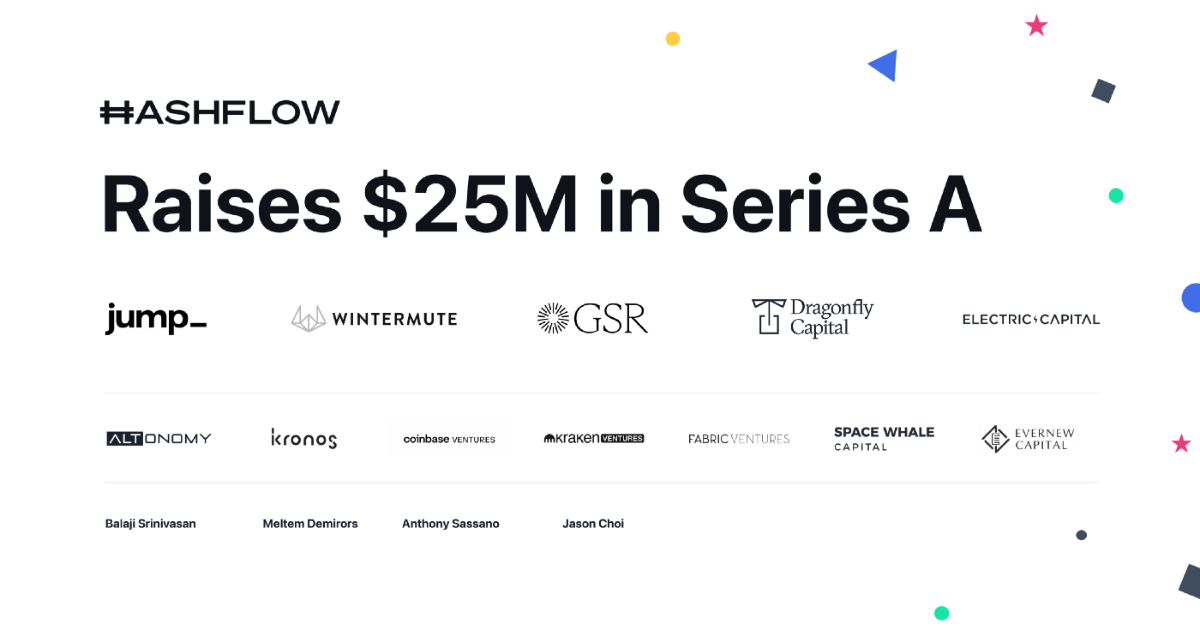 Monkey League (MBS) raised $24M in Series A round
What is Monkey League?
Monkey League is a football game built on Solana, built by UnCaged Studios. This game allows players to build and manage their team to participate in matches with other opponents. Monkey League includes many interesting game modes, with free-to-play and play-to-earn mechanics, players can completely start playing Monkey League without spending any money.
Famous Venture Capitals participating in the funding round:
Griffin Gaming Partners: One of the largest gaming-focused investment funds in the world, managing over $1B in total assets.
6th Man Ventures: A venture capital fund in the crypto market. The fund was founded by tech and crypto veterans Mike Dudas and Serge Kassardjian.
Goals after the funding round: The raised capital will be used to help UnCaged Studios continue to develop Monkey League, in addition, strengthen their own e-sports gaming ecosystem.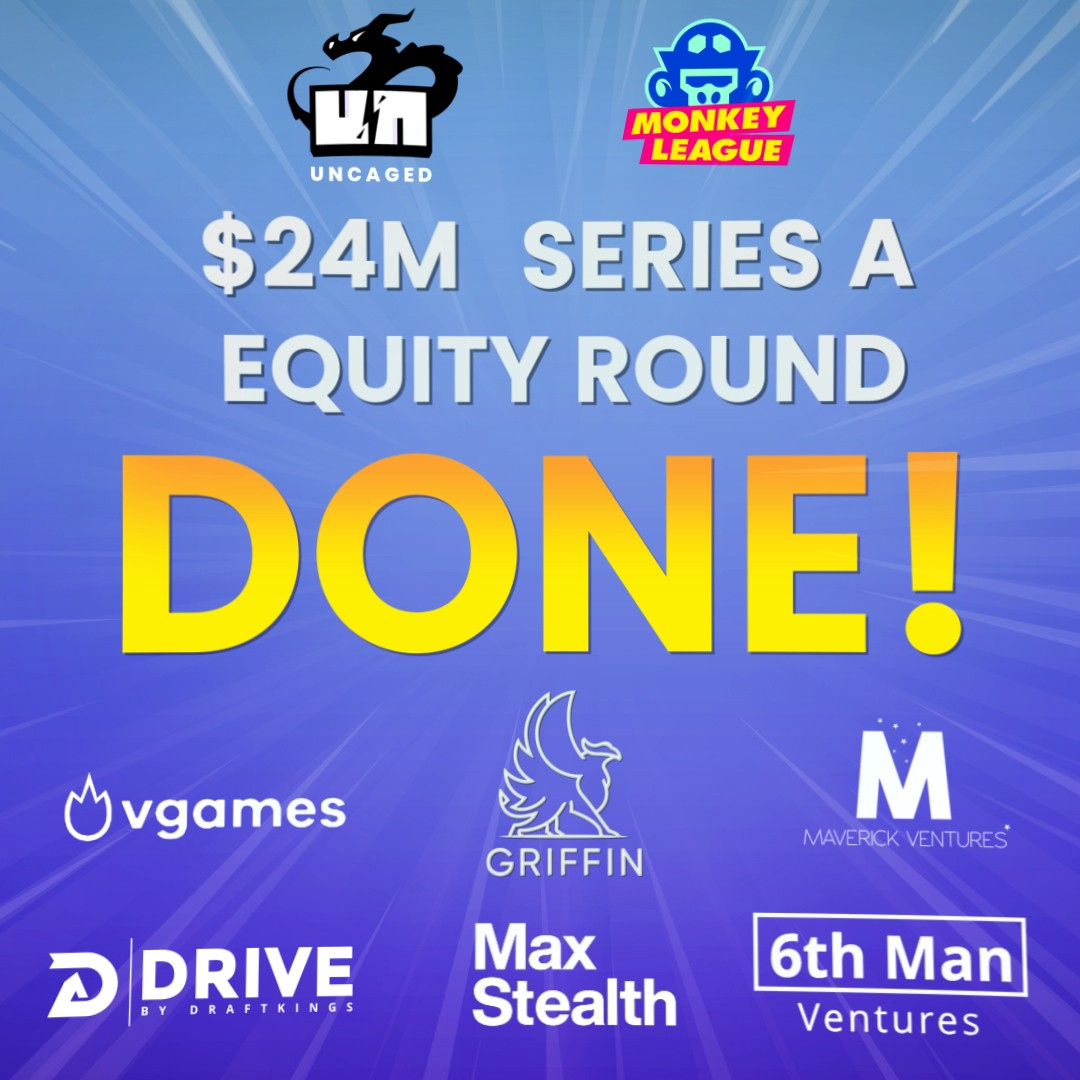 Projects without tokens
Projects that do not have Tokens and are invested in may be able to develop and build their basic foundations.
For the project itself, the supporters in this phase are very meaningful to them, so the list below may not help you in investing, but it helps in choosing potential projects to learn about. You can look for opportunities such as participating in Testnets, IDOs,...
Mysten Labs raised $200M in Series B
What is Mysten Labs?
Mysten Labs is an infrastructure development project for Web3, founded by former engineers of Meta (Facebook). Mysten's debut product is Sui, a layer 1 blockchain with proof of stake mechanism. The second product from the Mysten family is Move, an open-source protocol with all the necessary programming languages ​​to create smart contracts.
Famous Venture Capitals participating in the funding round:
FTX Ventures: The venture capital arm of the FTX exchange, and this is the same fund that led this round.
Goals after the funding round: This funding round of Mysten Labs has not come to an end. According to information from FTX, a total of $140M has come from many investors around the world. Mysten Labs expects to close this Series B round when the amount invested reaches $200M, and at a valuation of $2B.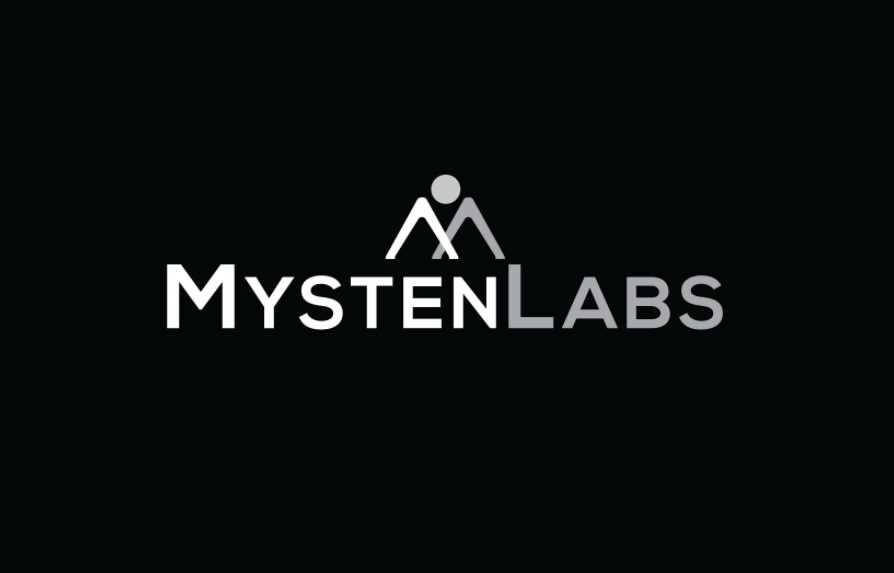 5ire raised $100M in Series A round
What is 5ire?
5ire is a layer 1 blockchain. According to the founder, 5ire is a bridge for the new world, to move from the industrial revolution 4.0 to 5.0. 5ire uses special proofs such as Nominated Proof of Stake, Proof of Benefit, Proof of Donation. Over the past week, 5ire announced a $100M investment commitment at a $1.5B valuation. The round helped make 5ire the fastest tech unicorn in history.
Famous Venture Capitals participating in the funding round:
Sram & Mram Limited: The company was established in 1995 by an Indian businessman. This is a global, multidisciplinary company. Sram & Mram invests in many markets, including Southeast Asian countries such as Thailand, Vietnam and Cambodia.
Goals after the funding round: The capital will be used by 5ire to expand the ecosystem, focus on investing in new technologies and resources for 5ire Chain, and recruit more top experts in the world.
Halborn raised $90M in Series A
What is Halborn?
Halborn is a blockchain security company, based in Miami, USA. Halborn was established in 2019 with a team of about 50 employees. Halborn is currently working with a wide range of major factors in the Coinbase and Solana industry.
In addition, Halborn also cooperates with a series of other large companies such as Amazon or Nike, helping them in security and gradually leading giants to the cryptocurrency market.
Famous Venture Capitals participating in the funding round:
Summit Partner: Established in 1984, the international investment company Summit Partners currently manages tens of billions of dollars in capital. The company mainly invests in technology, healthcare and other related industries.
Castle Island Ventures: A venture capital fund founded by Nic Carter and Matt Walsh. The Fund mainly invests in the blockchain sector and is particularly interested in Bitcoin alone.
Goals after the funding round: The capital will help Halborn operate stably, overcome the "crypto winter" firmly, and bring more value to the community in the field of security and audit.
Zebedee raised $35M in Series B
What is Zebedee?
Zebedee is a Bitcoin-based play-to-earn project. A special feature here is that Zebedee will reward BTC for players when playing games.
For example, with CS: GO, a famous FPS game, users will receive a small amount of BTC when hitting an opponent, otherwise, a part of BTC will be deducted when getting hit. Zebedee works cross-platform, and users only need to connect their wallet and start playing games.
Famous Venture Capitals participating in the funding round:
Square Enix: A Japanese entertainment giant and holding company, known for role-playing game series such as Final Fantasy, Dragon Quest, Kingdom Hearts, and many more.
Kingsway Capital: An investment fund in London, UK, the Fund was established in 2013 with more than 60 times pouring capital for projects in many fields. The Fund mainly invests in the early stages of the project.
Goals after the funding round: The capital will be used to further develop Zebedee. Besides, they have also successfully attracted the attention of the giant Square Enix after this funding round.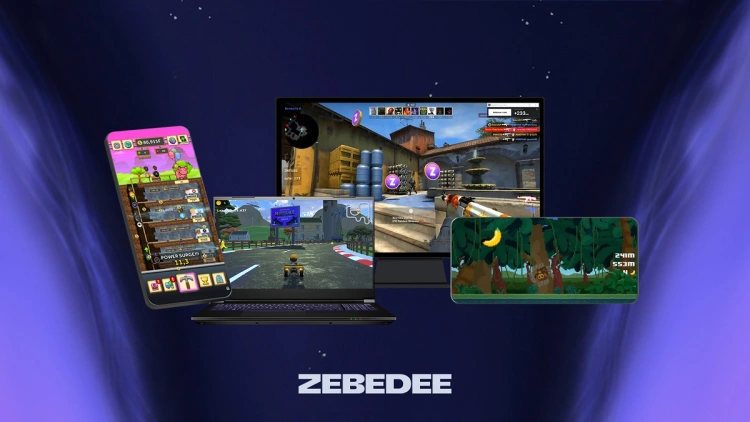 Conclusion
It was a rather "fresh" week for the fundraising market in particular and for the crypto market in general. BTC has hit $25K again after several weeks of hovering, the Fundraising Market also showed a massive influx of money coming into the market.
There are 2 Venture Capitalists announced and launched new Funds, with the total value reaching $930M, accounting for 2/3 of the total value of this week's fundraising market. Saber Labs is a relatively young project, but has spent $100M to establish "Protagonist" Investment Fund.
Moreover, over $400M was invested in the infrastructure & Layer-1 category, which proves that big investors are continuously finding good investment opportunities in this sector.