What is Coin98?
Coin98 is a protocol providing an ecosystem of DeFi products that is more accessible to Defi users. Available projects built on the protocol include decentralized exchanges, on-chain governance (via Snapshot), blockchain-based games, and so on.
Especially, Coin98 allows multi-chain activities and performs itself as the most outstanding and convenient protocol – which DeFi users do not necessarily have to have in-depth blockchain knowledge to join.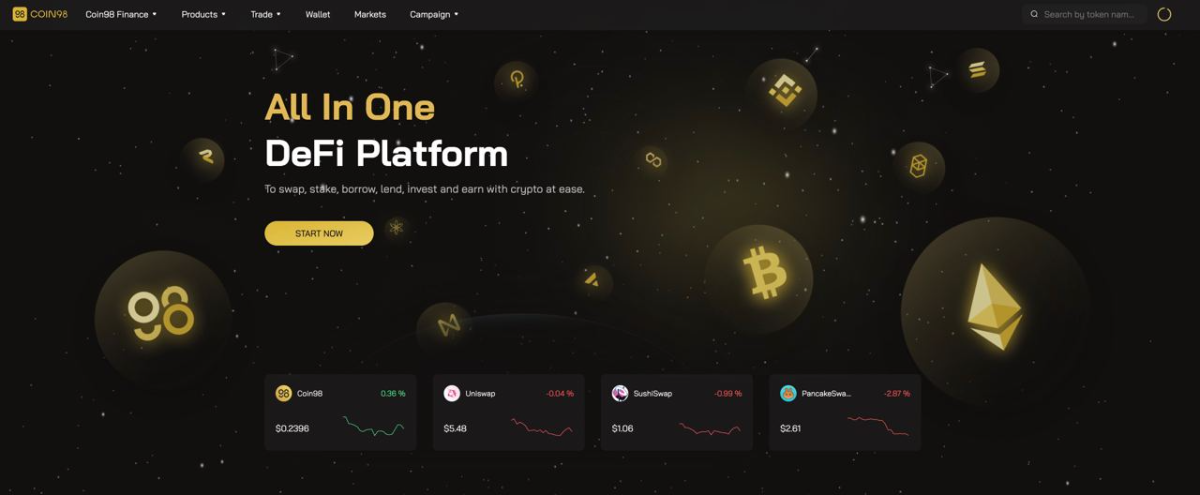 Coin98 main components
Coin98's ecosystem includes products with the following specific functions:
Coin98 Exchange: A multichain liquidity aggregator which supports multiple assets issued on different blockchains, such as Ethereum, BSC, Solana, Tron,… Coin98 Exchange aims to create the smoothest, most continuous, and seamless experience for DeFi users.
Coin98 Super App: Provides users with a comprehensive and trusted ecosystem with globally needed services, including: non-custodial multi-chain wallet, native swap, cross-chain Bridge & DApp Browser, a powerful Terminal,...
Coin98 Portfolio: Assists users in managing portfolio assets on different blockchains without requiring an Import Key.
Coin98 Markets: a data platform providing Blockchain on-chain analysis.
Coin98 Staking: Supports users to staking multiple crypto assets.
Coin98 Terminal: DeFi Tools & Utilities – brings users and DeFi closer.
In development:
Coin98 Launchpad: IDO platform - Empowers innovative crypto projects through fundraising activities.
Coin98 Mega Farm: Farming Market on Coin98 Exchange.
Coin98 NFT Marketplace.
Coin98 Derivatives: includes Margin Trading, Future Trading, Options Trading, etc.
To better understand the vision of Coin98 Labs with the values that the team wants to bring to users through each of these products, you can refer to: Coin98 Ecosystem Overview.
C98 Token Use-Cases
The C98 token is the native utility token of the platform. The current and planned use-cases of the C98 token include:
Transaction fees: on each transaction users have with Coin98 Exchange, Coin98 will collect a transaction fee.
Product development: C98 revenue from transaction fees will be partially used for future product development and ecosystem growth.
Staking incentives: The other fraction of transaction fees will be allocated to C98 Liquidity Provider.
Governance: Users may stake C98 to gain voting power and participate in the governance process to change product parameters.
Unique membership rights: Users will gain tiered benefits on the platform, enjoy retroactive incentives from Coin98, and have privileges when joining Coin98 products/ services (Coin98 Launchpad, Coin98 Exchange, etc.) or participating in events from strategic partners.
Team, Investors & Partners
Team members
Coin98 has 100% Vietnamese team members. Most of them have had years of experience in developing crypto products. Coin98 cofounders include:
Le Thanh: He became involved with cryptocurrency early in the formation of Coin98 Community – which has relentlessly evolved into Coin98 nowadays. Besides working at Coin98, he is also an advisor for crypto projects inside and outside Vietnam.
Nguyen The Vinh: He is Technical Co-founder and is accountable for Coin98 product development.
Investors
Coin98 Labs has completed raising 1.25 million USD in the seed funding round, with the list of investors are the following:
Hashed: Hashed is a global, early-stage venture fund focused on backing founders who are pioneering the future of blockchain and cryptocurrency. The team includes talents coming from Seoul and Silicon Valley.
ParaFi Capital: ParaFi Capital is an alternative investment firm focused on blockchain and decentralized finance markets.
Spartan Group: Spartan Group is an Asia-leading blockchain advisory and asset management firm founded by former Goldman Sachs alumni. Spartan Capital offers advisory services for leading blockchain projects such as Dapper, Blockfolio, Solana,...
Multicoin Capital: Multicoin Capital is an investment firm that invests in cryptocurrencies, tokens, and blockchain companies, manages several billion assets across hedge funds and venture funds. It has been supported by Binance too.
Strategic Partners
Strategic Partners of Coin98 include:
Binance, the world's biggest crypto exchange in the world by volume.
Coingecko, a global leader in tracking cryptocurrency data, tracking over 6000 tokens across more than 400 exchanges.
Kyber Network, one of the flagship Vietnamese protocols and one of the best AMMs on the Ethereum blockchain.
Roadmap & Updates
There are many components/ products in Coin98 Ecosystems. Within the scope of this paper, we will explain the Roadmap of the main component: Coin98 Exchange.
Coin98 Exchange Roadmap includes 4 Phases:
Phase 1 (completed): Single-Chain Swap only.
Phase 2 (We are here): Market Expansions on different blockchains (Ethereum, BSC, Solana, Avalanche,...), simultaneously Bridge development to move assets between those chains.
Phase 3: Develops Smart Route on each Blockchain, offers users the best rates and low slippage without requiring them to visit each AMM at a time to finish transactions.
Phase 4: Connects native assets through Smart Route on different blockchains, forms a fully mature cross-chain crypto market.
Detailed information about the C98 Token
Key Metrics C98
Token Name: Coin98.
Ticker: C98.
Blockchain: Ethereum, BSC, Solana.
Token Standard: ERC20, BEP20, SPL.
Contract:

BEP20: 0xaec945e04baf28b135fa7c640f624f8d90f1c3a6
ERC20: 0xae12c5930881c53715b369cec7606b70d8eb229f
SPL: C98A4nkJXhpVZNAZdHUA95RpTF3T4whtQubL3YobiUX9

Token type: Utility, Governance.
Circulating Supply: 185,000,000 C98.
Total Supply: 185,000,000 C98.
Max Supply: 1,000,000,000 C98
C98 Token Allocation
Ecosystem Growth: 21.00%.
Community Development: 20%.
Team: 20.00%.
Strategic Sale: 15%.
Treasury: 12%.
Seed Sale: 5%.
Binance Launchpad Sale: 5%.
Advisors: 2%
C98 Token Sale
C98 Token Release Schedule
Coin98 Token release schedule:
Ecosystem Growth: 4 years vesting, 30% release at TGE (Token Generation Event), linear unlock starting from the 2nd year.
Community Development: 4 years vesting, 30% release at TGE (Token Generation Event), linear unlock starting from the 2nd year.
Team: 4 years vesting, 1 year cliff, linear unlock starting from the 2nd year.
Strategic Sale: 2 years vesting, 1 year cliff, linear unlock starting from the 2nd year.
Treasury: 4 years vesting, 10% release at TGE (Token Generation Event), 1 year cliff, linear unlock starting from the 2nd year.
Seed Sale: 3 years vesting, 1 year cliff, linear unlock starting from the 2nd year.
Binance Launchpad Sale: 100% release at TGE.
Advisors: 3 years vesting, 1 year cliff, linear unlock starting from the 2nd year.
At the Coin98 Token Sale event on Binance Launchpad, 18.5% of the total Coin98 token will be released.
How to get C98 tokens
At this point, users can buy C98 at Binance Launchpad. In the future, users can acquire the token through:
CEX and DEX.
Coin98 Exchange.
Provide liquidity at Coin98 Exchange.
Staking activities.
How to store C98 Token
Users can keep their tokens at Coin98 Super App – the wallet allows users to store, transfer and manage crypto assets on multiple blockchains.
The token has been built on 3 blockchains: Ethereum, BSC và Solana. Therefore, a multi-chain wallet like Coin98 Wallet is a perfect choice to manage Coin98 Token. Instructions on how to use Coin98 Wallet will be delivered promptly.
How to buy C98 Token
C98 Token is now tradable on most major exchanges:
CEX: Binance, FTX, Gate.io, MEXC Global,…
DEX: Sushiswap, Pancakeswap, Coin98 Exchange,…
Efficiency DAO Community
Similar projects
Similar projects that should be mentioned: Sushi, Pancakeswap, Thorchain.